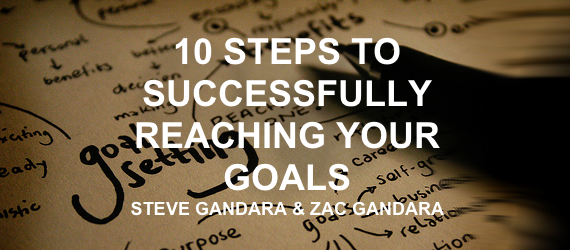 Why Don't New Year's Resolutions Stick?: 10 Steps to Guarantee Your Goal Success in 2014
1. SEARCH THE HEART
Find your heart before you set any goals. Heart-felt goals get achieved, head goals are just an exercise in thinking.
2. CLARIFY YOUR VALUES
Clarify and prioritize your top 5 or 6 values in life in the order of where you'd spend your time if you only had 1 week to live. Set 1 goal for each of your values.
3. FOCUS ON CORE COMPETENCIES
Do an inventory of your 5 best gifts or talents and set specific goals to hone and improve them. (Wasted talents atrophy)
4. SEEK COACHING RELATIONSHIPS
Get feedback from those who see you as more than you are and want the best for you on what goals to set.

5. PREPARE FOR THE IMPOSSIBLE
Set at least one goal that's impossible to achieve based on your current knowledge or understanding of how to achieve it. This will activate your awareness to discover and learn new knowledge and strategies. You may not reach this goal this year but, but having it will stretch you and keep your subconscious mind active to find new possibilities.
6. IT'S NOT ABOUT YOU
Make certain that more than half of your goals are focused on serving others rather than yourself. This will keep you on track with true north in your life and empower/fuel all of your goals with the power to achieve them. Excellent leaders understand that all they have and acquire is to help equip others to go higher.
7. CREATE YOUR OWN MOVIE
Develop a clear mental image for each step that it will take to achieve each of your primary goals. Make sure you can clearly visualize yourself in possession of each item, trait, relationship or experience. There's no substitute for clarity and seeing yourself take the steps will continually inspire you as you see and feel the progress.
8. JOURNAL IT
Write down each goal as something that you're thankful for even though you're still in the process of achieving it. This will activate all of your energy to build the beliefs that will make your goal truly achievable.
9. WATCH YOUR OWN MOVIE
Review each written goal statement and vision daily, first thing every morning and the last thing before going to sleep each night. Hold on to each image long enough to feel the peace of a true experience of possessing the goal.
10. DELAY GRATIFICATION
Keep your goals to yourself. Scientists have proven that we often gain gratification from sharing our goals with others. When we receive their applause for setting the goal, in almost all cases it causes our inner motivation to diminish and we do not progress towards our stated goal.
What are some goal reaching tips you have learned over the years? Chime in and let us know in the comment section below.