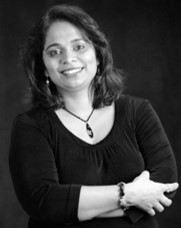 Chaitra Vedullapalli has over 17 years of experience in the software industry. She brings a host of capabilities including marketing, industry, and partner expertise.
She has a proven track record of enabling global transformations, architecting innovative business models, launching 360 degree marketing, leading communities and leading teams with excellence.
Chaitra was a Senior Director of WW Sales and Marketing Communications at Microsoft, where she led social enterprise implementations and shaped Microsoft Customer and Partner Self Service Experience, which impacted over 10 million customers and 1 million partners. She has also served as Director of Licensing and PartnerNetwork at Oracle where her projects drove licensing simplification and enabled state of the art innovations in the Partner Self Service Experience.
Chaitra holds a patent in WebMethods and a Bachelor of Electrical Engineering from RVCE, Bangalore. She is known for her thought leadership and social entrepreneurship for developing programs such as "Showcase Seattle" and "Creative Children for Charity" to empower artists across the world and contribute to TED events to disseminate and share innovative ideas.
Chaitra has presented at numerous events such as "The Future of Marketing – Personalization Revolution" and "Localization World" and IPQC- Channel Partnering. She has also published "PARTNER Tweet" – 140 Bite-Sized Ideas for Succeeding in Your Partnerships, now available on Amazon.
"Chaitra is one of the most forward-thinking and customer-oriented managers anywhere. Chaitra lead the way, deploying social media monitoring tools at a time when most were still trying to figure out what social media was. She always thinks about the organizations she is partnering with as well as the end customer."
Mark Thompson, CEO of Dialog Group
"Chaitra led a company-wide team, driving impact to tens of thousands of people in the worldwide Microsoft sales, marketing, services, and partner teams. She architected and drove a change management process, implementing a field-facing knowledge management system that makes it easier for field teams to find the information they need…Her efforts have increased the effectiveness and productivity of all field roles, and at the same time saved the company millions of dollars in content creating and publishing. I highly recommend her."
Marcel Eisma, Director at Microsoft
"Chaitra is an ideal business partner. She is both strategic and visionary and maintains high standards and open lines of communication. She sees the big picture and understands how to get there."
Dan Medakovic, Vice President
Learning Solutions at Blatant Media Corporation