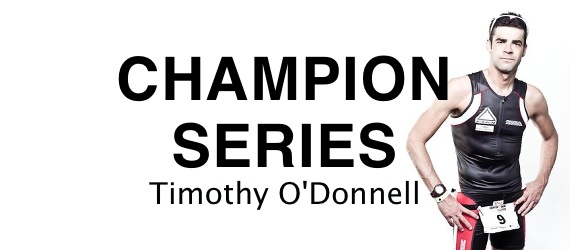 As strategic management consultants, Excellent Cultures gets to see the best of the best and the worst of the worst in corporations, leadership circles, and professional athletics. We are grateful to have had the opportunity to sit down with Timothy O'Donnell whom exemplifies what it means to be best of the best! One of the great things about Tim is that his best has shown through not just because of giftedness, but hard work, great strategies and great coaching.
There's so much to be caught from Tim's experiences and hard work. Leadership is not limited to the realm of organizational avenues or public domain, but is truly rooted in leadership of self. How we lead comes from an overflow of who we are and how we lead ourselves. Our lives are just mere extensions of the inner self we've trained.
If you missed our first installment of the interview with Tim you can read it here. Enjoy this second part of this interview and glean from a truly self-disciplined man.
Q: What made you decide not to pursue the Olympics?
A: I was sixth in the Olympic trials in 2008. It is a three man team with an alternate so I was a few spots off. When I started triathlon I really did want to go to the Olympics. Every kid growing up wants to go to the Games. In 2009 and 2010 I was second at the U.S. Pro-Nationals in Olympic racing so I was considered a strong contender for this year. But I decided the way the sport has grown over the last few years, becoming much more competitive, I needed to focus on one goal. In 2009 and 2010 I had been doing a little Olympic racing and I had been doing a little bit of Ironman long course racing, the level of competition was so fierce in both formats that I decided I needed to fully commit myself. I stepped back and said, "Ultimately what do I want to do in this sport?" I decided that winning Kona was really the one thing in triathlon that I wanted to achieve. So I decided I needed to put all my eggs in that basket and really focus on one goal.
Q: If you win Kona, do you think you will want to go back and do the Olympics again?
A: I might – there is an Australian named Chris McCormack (professional triathlete and two time Ironman World Champion), and after winning Kona and in his late 30s he tried to get in the mix for the London Games. It is not totally out of the realm for me in the future.
Q: What's the single biggest decision and single biggest mistake you think you've made in developing yourself and your career?
A: Switching to long course racing would be the biggest decision I've had to make just because it is so hard to leave what you know in terms of the Olympic racing. I was comfortable with that. It was something that from the outside, a lot of people thought I should do even though in my heart it really wasn't what I wanted to pursue. That was definitely hard.
In terms of mistakes, I don't know if I've made anything I really regret in the sport. I view my mistakes as learning experiences that make me a better racer. I would have loved to maybe done some long course racing earlier in my career just because it really is my strength. I don't know if it is a mistake but if I could have had a little more confidence in myself earlier in my Olympic racing, in terms of my running ability, I think I could have had a lot more success in that format of racing.
Q: Was it a coach that encouraged you to switching to long course?
A: It was a personal decision. My coach was there and he could see it both ways. He thought I could be successful in either format. It was really a big lifestyle difference. It you are doing Olympic racing you need to live in Europe for about six months of the year.
My fiancé is a professional triathlete as well, we both enjoy life and we want to be on the same page. The lifestyle change for Olympic racing wasn't a sacrifice that I wanted to make at that point in my career either.
Q: If you could mentor the world's business leaders on developing discipline, focus and performance in their people, what would you say to them?
A: I would say you don't have to be the favorite. You can be the underdog. You don't have to be the company with the biggest budget, the most resources, the most media coverage or the most praise from critics. You can be successful from the other side of the coin, with the right plan and lots of work the underdog can prevail.
Q: What have you done to move from underdog to world champion?
A: I would say my attention to detail. A lot of guys don't think through their racing. They don't develop a long-term plan or focus on the small stuff that will bring you big returns. When you look at the top professionals in triathlon everyone is extremely fit. What are the small things that you can do that your competitors might overlook? That is where you can get competitive advantages. A great example is a Half Ironman I did in Thailand in 2010, the Asian Pacific Championships. The swim started in the ocean and then you ran across the beach and swam across a fresh water lake to get to transition. I came out in the lead from the first part of the swim with about five guys on my feet. I was the only guy who took the time to scout the course and I knew there was a sandbar on the left side of the beach as we entered the lake. So when everybody dove in and started swimming, I made a beeline over to the sandbar and put about 50 meters on everybody. That turned out to be the race; I never saw anyone again and took home the win. Finding the little ways you can get a competitive advantage over those that are more talented or have better resources is something that I always try to do.
A big part of racing is about knowing the course and how to be successful on that particular day.
Q: How do you keep your focus on your training regimen and still maintain that with life priorities?
A: That is one of the biggest challenges in triathlon. It is such a self-serving sport, so focused on your own training and racing. It is great to challenge yourself individually and be able to push your limits, but when you do this professionally it really can consume your life.
I'm lucky my fiancé, Mirinda, who I mentioned is a triathlete (Wikipedia: Mirinda Carfrae, born 26 March 1981, is an Australian professional triathlete who won the Ironman 70.3 World Championship in 2007. In 2009, she achieved a silver medal at the Ironman World Championship in Kailua-Kona, Hawaii, her first attempt at the full Ironman distance. The following year, 2010, she became the Ironman World Champion.) is at the top of the sport as well.
Some professionals can't find good balance in life. They can lack some social skills because you spend so much time on your own. But I surround myself with people that enjoy life as well and want to have a balanced life like Mirinda. We make sure that by 9:00 o'clock at night the computer is shut down and we can have some time for each other. We make sure to plan little mini-breaks throughout the race season where we know we might have three or four days of just getting away from everything. We try to plan family time and try to incorporate our families into our racing if we can. If we can bring them out to a race then we love to share what we do with them as well.
Q: What is the biggest thing you've learned from Mirinda?
A: It is the joy of life that she has. We will have a bottle of wine on a weeknight or do something just to relax and take a step back. Some athletes can't do that and they get so caught up in triathlon. They think they have to be locked down all the time. If you don't love what you are doing you won't perform as well as you can, you need to have that passion. In taking some time away from whatever you do and enjoying other parts of life you will keep you more energized and keep your performance high.
Q: What do you know now that you wish you knew before? Any advice for those with similar aspirations?
A: I wish I knew, how to be a little more patient in my racing early in my career and I wish I had more confidence in my ability to race as well. If somebody wants to do this it's all about staying committed. This is a sport where the young guns aren't taking over yet. Guys in their late 30s are winning the big races because it is a sport about building endurance over time, almost like a bank account of fitness. It just keeps growing and growing over time. If you can be patient and be willing to put in the work and pay your dues then you can have success.
With the instantaneous nature of life right now it is harder than ever to be willing to commit to something for the long term. But the reward you get when you put so much into a goal over the long run is much sweeter when you know all the hard work you've done over the years. When it finally comes together and you have success after years of obstacles, that sense of pride and accomplishment is something you can't experience overnight.
Q: What's the most important quality you look for in building relationships with sponsors, colleagues or team members in achieving your goals?
A: A lot of people, this would deal with business relationships too but particularly with athletes and sponsors, they think me, me, me – what can you do for me? When I look at a partnership I think how can I help your brand or what can I do for you? How can I help your business and triathlon come together, how can I help you grow your brand or introduce a new product? I have seen some companies come in, throw money at an athlete and then do nothing to activate the athlete. The athlete will take the paychecks and then the company says, "Well, we didn't get the return on that investment" and then they pull out. If you can really help engage your sponsors with the sport and their target audience you can bring value to them. That's what it is all about – a mutually beneficial relationship. How can I bring you value and really make this a long-term partnership?
Want to build an excellent culture in your business?  Tell us about your business and the vision you have for your culture.  Ask the experts.