Our Champion Series will focus on leadership tips from world class athletes. Questions that have come from executives across the globe concerning discipline, self-esteem, work ethic, and more. This blog will be a two part series taken from our interview with Timothy O'Donnell: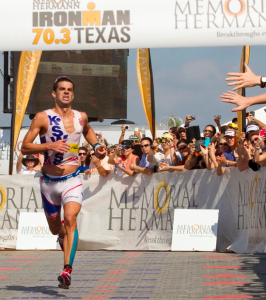 A graduate of the United States Naval Academy (USNA) in Annapolis, Maryland.  Timothy was initially a member of the Varsity Swim Team until his brother convinced him to try out for the Triathlon Team as well.  But athletics weren't his only talents.
O'Donnell excelled in other aspects of life at the USNA. His leadership skills were further developed when he was selected as the 6th Battalion Commander his senior year. As Battalion Commander he was responsible for over 700 members of the Brigade of Midshipman. Academically O'Donnell was part of the engineering community, studying Naval Architecture. He was selected to Tau Beta Pi, the national engineering honor society and, his senior project, the structural design of a harbor cruise ship, won the award for superior design. In May of 2003 he graduated the USNA with Honors and was commissioned an Ensign in the United States Navy.

Upon graduation O'Donnell earned one of only 50 positions offered for the Immediate Graduate Education Program. In 2003 he transferred to the University of California, Berkeley to study Ocean Engineering. While at Cal Berkeley, Timothy continued to train for Triathlon. He won the 2003 U.S. Under-23 National Championships and also won the Armed Forces Triathlon Championships with a new course record. O'Donnell graduated with a Master of Engineering in 2005.
Just last month in Galveston, TX at the Ironman 70.3 US Championships, Tim won the title of US Pro Champion! We got to interview him while he was training in Australia just weeks before this hard fought win! Take a look at the success Tim has had over his career. He is one of the world's top triathletes.
As we all fight for values and employee engagement within our perspective contexts there is something to be learned from world-class athletes. Their dedication, work ethic, positive attitudes, and mental toughness can be truly insightful as we each look to grow in our business communication across cultures of people and leadership.
Part one of a thirty-minute interview with Tim:
Q: How do you begin your day mentally and physically?
A: You know your day. Sometimes you get up and you are punching the clock but you know the days when you really have your key sessions. You know the first thing I do mentally is remind myself of my own goal in racing right now which is to win Iron Man in Hawaii. Then I say all right you know let's think about what I'm doing today that is going to get me to that point. It is usually those specific sessions and what I need to do to have a successful session that will contribute to that ultimate end goal of winning Hawaii.

Q: So you always remind yourself of the ultimate goal when you start your day?
A: Exactly and then what am I doing this for. I had a high school swim coach that told me to decide what you want to be and pay the price in who you want to succeed in. I've kind of used that to remind myself when I'm training because it can get pretty monotonous and you get pretty tired and broken down. I want to win coming in. You know each day I focus on what it will take to get there.

Q: What do you do on the junk days? On the days you feel horrible?
A: I'm a self-motivated person and I think most triathletes are kind of Type A, so I'm not the kind of guy that if I'm not feeling well I will try to weasel out or try to take it easy on myself and be held back. If it is a really rough day sometimes I will think "okay, how is this going to contribute to the end goal?" Sometimes it is smarter to step back and take it easy or maybe modify or take a day off or whatever is needed, but I think when you are self-motivated and self-driven you know that it is really needed if you have to do that and it is not just…you know when you are trying to bag out on something or if it's really needed. So just think and being able to monitor yourself and to be honest with yourself and know your self dialogue helps a lot.

Q: What was it that made you decide to have a career as a triathlete rather than staying in the navy?
A: I was a swimmer growing up. I started swimming on a team when I was 5. I went to the Naval Academy when my older brother, Thomas, was the captain of the Tri-Team and he got me – you know I was swimming at the time – and he got me to go to the Triathlon. It was just something that I really loved. I never was the best swimmer – one of four – I was probably the worst swimmer of the group, but I would train really, really hard and I eventually got better and got to be a very competitive swimmer.
There is just something in Triathlon where, it is a sport where if you really put in the time and the dedication and the effort you will succeed. It is just something I appreciate with the challenge of not just a physical challenge, but the mental challenge and at the point where I was when my 5 years in the Navy was up my boss, who actually had been a professional triathlete back in the '80s, he said to me, "Tim, you know you have a great gift here in this sport and you have done what we've asked you to do and if this is what you want then you shouldn't feel bad about moving on and pursuing this dream." So at that time I decided to take the leap.
My parents thought I was crazy. I left the Navy, which was a consistent solid career and lots of benefits. I went to a job where there was no guarantee of payment or no health insurance, but it was a leap of faith in myself really.

Q: So the support your command gave you was the boost you needed?
A: The support I had from my Command before I left the Navy was fantastic. It is a culture thing too, you know. I was in the Special Operations community and those guys really value physical fitness and I guess the life and mental skills you can get from training your body and they took great value in what I did. More so than maybe some other parts of the Navy would have done.
Special Ops actually gave me – it's called a World Class Athlete Program that the military has and the Army has a huge (well not huge), but you know they have a whole Command set up in Colorado Springs and they have 140 athletes. The Navy was purely case by case and my Command was supportive enough to let me go to Olympic training center and pursue that and represent the Navy while I was doing that. The Navy wants to showcase their talent and their people and that was a great way for them to do that.

Q: What has been your biggest success, as well as your biggest struggle?
A: Success – if you are talking about purely results like winning the ITU Long Distance Championships, was really a great moment for me, but I think my real success in this sport comes from sticking through. I was really, I'm not going to say a bad runner, but I was not a good runner when I started Triathlon. In the summer I had around 20 or 25 pounds on me, more than I have now, and when I first started doing the Olympic stuff and was in the development pipeline doing the under 23 national teams and the collegiate resident teams, I was told that I would never succeed in sports just because I couldn't run. I kind of ignored them because I didn't think that was true.
I went through a lot of years when I didn't have – I was not racing well, I wasn't running well, but my run was progressing in training. Even when I got out of the Navy and decided to race professionally as a full career I hadn't had the success that would probably warrant that, but once again I had faith in what I was doing and trusted in my ability and I think the way my run came on now I am running and am considered one of the best long course runners in the sport. So for me that is probably my greatest success and coming out in 2009 after I got out of the Navy and I started winning races and started winning them on the run. For me that was a huge accomplishment emotionally.
Q: What is the source of your inner belief? The faith you have in yourself, where does that come from?
A: I think I get that strength from – obviously my family, they are always very supportive of what I do. We were very competitive growing up. We all swam and my dad was always out there playing sports with us and keeping us honest so to speak. But I really think my work ethic and my dedication and willingness to not give up in training and racing is really what I base that faith or that trust in knowing that I do the work and when race day comes I'm not going to back down. It's probably where I get that from and that is one of the things you know that as you progress as an athlete you see, you know, you and your coach know all the work that you are putting into this and everybody else just sees the results. They are seeing the results and they are telling you that you can't do it or you are not going to make it – all this stuff – and myself and my coach, who has been a great strength for me as well, we stuck to our plan and we had a several year plan to get to where I am now. We just stayed the course.

Q: What are 2-3 of the critical decisions you made that have contributed to my success?
A: I think in terms of my ultimate – I think the first one, if we just look at my athletic career, was the decision to no longer label myself as a swimmer who does Triathlons, but say "I am going to become a runner" and that was huge. As a former swimmer you kind of want to rely and lean on your strength and a lot of people that do that and can never make the transition to be successful because they don't work on the weaknesses. My first thing was to say I have to accept that fact that I'm no longer a swimmer and I'm going to learn how to be a runner and I'm going to be a triathlete.
I think transitioning from the Navy was a huge life-changing step for me. Then finally I would say at the beginning of last year I decided not to pursue the Olympics for this year and completely focus my career on the long course racing, the Ironman racing. I think that has been one of the biggest decisions I have had to make – looking at Triathlon not just as a sport, but for me as my career.
We will continue this series over the next week:

Part Two Begins with…

Q: What made you decide not to pursue the Olympics?
Want to build an excellent culture in your business?  Tell us about your business and the vision you have for your culture.  Ask the experts.