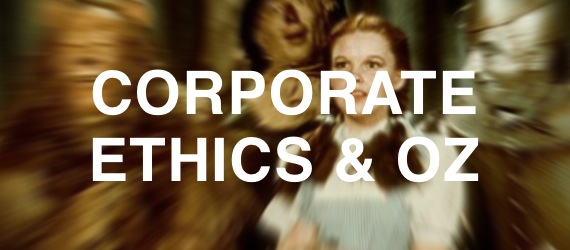 By: Craig O. Donaldson
The Wizard of Oz introduced us to three wonderful and flawed characters. We cheered them on in their magical journey to Oz. One lacked a brain, the other lacked a heart and the third was without courage. With Dorothy and Toto, they plodded along in a fanciful world with witches, wizards, ruby shoes and flying monkeys, searching for what they lacked. In the end, these three endearing characters realized that all along what they were seeking was always well within their grasp. They just needed a way to figure it out, live it and make it part of their DNA.
Similar to the three wonderful and flawed characters of Oz, leaders and organizations today have a choice when it comes to ethics and compliance. They can act like the bumbling Tin Man without a heart, the timid Lion without courage and the not-so-smart Scarecrow without a brain . . . or, alternatively, leaders and companies can take the journey, face the "demons" and come out smart, compassionate and bold. They can create a "do the right thing" company and culture.
A majority of large companies today, particularly those that are publicly traded, have a Compliance & Ethics Department, whose function is to ensure the company and its employees comply with laws, regulations, rules, policies and procedures. If a company does not have a dedicated Compliance & Ethics group then this function likely operates formally or informally through the Law Department.
As part of a company's ethics, most companies have a mission or values statement. Here, they boldly proclaim their corporate mission, principles, purpose and values, with statements about integrity, honesty, sustainability, courage, customer-first, and innovation. Between Compliance & Ethics Departments, Law Departments, policies, rules, mission statements and value statements, the ubiquitous corporate message is generally something to the effect that: "we are trustworthy and good corporate citizens – do business with us, invest in us and come work for us – you'll be glad you did."
The taglines in corporate America are becoming routine and predictable. Although many companies truly live-up to their high standards, it is remarkable the number of leaders and organizations that fall so short of their noble ethical intentions.
It is a simple thing to create departments and check boxes. Any organization can create taglines that tell the world how honest, trustworthy and noble the organization is. Anyone can say anything at any time, that doesn't make it true or complete. Sometimes such rhetoric is accurate; and other times it is puffery, incomplete and even inaccurate. Unfortunately, for some companies, the mission, values and ethics can be a glittering image of an otherwise dubious underbelly. Much like Oz, what is behind the curtain is sad, disappointing and not as advertised.
This was recently highlighted in the New York Times op-ed by Greg Smith regarding his abrupt departure from Goldman Sachs due to the company's toxic culture. Mr. Smith's unflattering description of Goldman Sachs' culture was the talk of Wall Street, the water cooler, executive offices and board rooms. Someone very publicly ripped open the curtain. Despite Goldman Sachs' Compliance & Ethics Department and its public mission and purpose, Mr. Smith conveyed a very troublesome picture.
To be fair, these were allegations by one former employee and, if true, Goldman is not alone. Other recent examples include the football programs at Penn State, Ohio State University and the University of Arkansas. This list includes the likes of Bernie Madoff, MF Global, News Corp., HealthSouth, Worldcom and Enron. Unfortunately, there are many more institutional examples of scandals, troublesome cultures and ethical shortcomings. Some we know about, others remain hidden from the public light for the time being, and sadly there are more to come.
The leaders of these organizations surely had ample checklists, policies, functions, and procedures at their fingertips. Nonetheless, these policies and procedures were insufficient in and of themselves to keep the organization true to its ethical intentions. Something was missing.
What they lacked was a "do the right thing" DNA; a values-based, genuine culture of "doing the right thing." Like the Tin Man, Scarecrow and Lion in the first part of the Wizard of Oz, these organizations were lacking a critical element for sustainable success. They were pretenders running a higher risk to ethically miss the mark and find themselves in scandal or with toxic cultures.
It is what Mr. Smith stated disappeared at Goldman Sachs; he referred to it as the "secret sauce that made this place great and allowed us to earn our clients' trust for 143 years." It is culture – made up of teamwork, trust, humility, integrity, honesty, hard-work, excellence, compassion, fairness and . . . "do the right thing".
A "Do the Right Thing" company may have, but does not need, all the programs, forms, training and procedures to know what is right and what is the right thing to do. It lives comfortably within its moral compass, with a strong identity of its values and moves in alignment to generate sustainable profits.
Strong values are core to the company and these values are part of the company's ethos. Its culture is authentic and engrained within its employees. These values are lived with boldness and pride. And there are examples every day in small and large ways that exemplify that this organization will "do the right thing." It is a written and, more importantly, an unwritten rule. This type of company has a soul, a heart and a purpose bigger than just making money or getting ahead.
On the same day I read about Mr. Smith's description of Goldman Sachs and the "decline in the firm's moral fiber" and how the firm is now "as toxic and destructive" as he had ever seen it, I came across another story. One that juxtaposed the story of the iconic investment bank. One that exemplified intelligence, compassion, grace and courage. This story was not about Ivy League graduates managing billions of dollars. It was much more simple than that. It was a video about a girls softball game.
There was a girls softball double header with two teams vying for the conference championship. That day in April, Central Washington and Western Oregon played before no more than one hundred spectators. In the second inning, Sara Tucholsky, a senior, was up to bat. There were two runners on base. Sara had never hit a home run, but had always dreamed of doing so.
There was the wind up, the pitch . . . and Sara miraculously hit the ball out of the park. The two runners on base rounded the bases while Sara sprinted to first. In her excitement, Sara overran first base and forgot to touch the bag. She quickly turned around to touch the bag and suddenly screamed collapsing to the ground in pain. She had torn her ACL and couldn't walk. She crawled back to first base and clutched the bag.
Sara's coach ran onto the field not knowing what to do. She inquired of the umpire if she could assist Sara or replace Sara with a pinch runner. The umpire instructed the coach that if her team assisted Sara she would be called "out" and if they replaced Sara it would be a two-run single. Sara remained at first base clutching the bag in pain, waiting for her fate to be determined as her season and career came to an abrupt, unexpected and sad end.
After a few minutes two players from the opposing team approached the umpire. Mallory Holtman and Liz Wallace from Central Washington asked the umpire what would happen if they helped Sara around the bases. Not sure where this was going, the umpire informed them that the opposing team players were permitted to make contact with Sara.
To everyone's surprise, these two players from the opposing team walked over to Sara and carefully picked her up. They gingerly carried Sara to second base, where Sara gently touched the bag, then to third base, where Sara gently touched the bag and finally to home plate. There was not a dry eye on the field or in the stands. Sara got her home run. Sara's team won that day 4-2. Later the Central Washington players explained, "she hit the ball over the fence, you deserve it."
For those girls on Central Washington, doing the right thing was important. For them, doing the right thing was part of winning. They naturally lived out their values and purpose. The Western Oregon coach said, "It is a great moment when someone has character to step up and do the right thing at the right time." The Central Washington coach was holding back tears after the game as he commented how proud he was to be associated with those kids. [See ESPN Report]
Those young women did the right thing. They did not need a bunch of policies, guidelines and departments to tell them what to do. They knew what to do, it was instinctive. It was part of their culture and DNA. Very different than how Mr. Smith described Goldman Sachs or how some organizations operate today, despite their public rhetoric and compliance programs.
At some point the Tin Man, Lion and Scarecrow stopped hiding, avoiding and cowering. Instead they stepped up, collaborated and engaged. It became substance over form; it became living it out rather than going through the motions. And this is where they found success. They embarked on the journey and took the correct fork in the road along the way. They found what was already within themselves – a heart, a brain and courage . . . the capability, motivation and confidence to do the right thing.
Besides putting in place all the usual policies and processes expected of responsible companies, there are concrete measures leaders can take to build a sustainable do-the- right-thing culture. A company that does the right thing offers a significant competitive advantage to its employees, shareholders, vendors and customers. Below are ten areas that with focus and persistence will help create a do-the-right-thing culture. One that is more likely to retain talent, increase revenue and avoid scandal.
Leadership. Consistently provide authentic and genuine examples of "doing-the-right- thing" type leadership. Model it, demonstrate it and talk about it. The tone at the top is critical – this includes the Board, President and Senior Management. Reward such leadership and promote those leaders who are known throughout the organization to have the right DNA.
Purpose and Meaning. Be inspiring and bold about what your company and employees do. If a technology start-up has the audacity to want to "Change the World", why can't you. Look for ways to provide and offer more meaning and purpose to the employees and organization beyond just financial returns. Find meaning and higher purposes in what you do and who you are.
Values. Carefully, collaboratively and thoughtfully define your values. Who are you and what is important to you? This is about you and your organization – who do you want to be? Actively make these values an authentic part of the fabric of your company.
Strengths. Explore and define your strengths on an individual, group and corporate basis. Play to your strengths and focus on your strengths. Stop focusing and ruminating on what is wrong.
Optimism. Believe. Be solutions-focused. Stop playing the blame game. Have confidence that you can solve, fix and achieve, despite any setbacks. Think about getting better, improving and positive outcomes.
Collaboration. Create a true team. A team that is humble, confident, with strong relationships, high-performing, encouraging and diverse. A team that thrives on and enjoys working together and collaborating to achieve great results.
Autonomy. Freedom, freedom and more freedom. Create autonomy as to how people approach their job and tasks. Let people take ownership and provide them the tools they need to be successful. Look for opportunities for autonomy with respect to time, task, team and anything else. Harvest the power of creativity within the boundaries of your values and purpose.
Mastery. Give people the opportunity to become really good at something and to continually improve. Create an environment where people can make clear progress towards a clear goal. Make it a place where people can flourish, grow, develop and continually experience new mastery.
Well-Being. We are multi-dimensional. We are emotional, physical, spiritual and intellectual beings. Be interested in your employees overall well-being. Create an environment where employees genuinely feel cared for in every sense.
Laugh. Life is too short not to have fun. If work is not fun (at least a good part of the time), why do it? Remember Huck Finn – make work play. It beats the alternative.
To succeed, Compliance & Ethics Departments, Law Departments, Human Resource Departments, Board of Directors and Senior Management should focus on creating a "do the right thing" culture; and not a "check the box" culture. In order to raise the level of performance, organizations must focus less on form, rules and regulations and more on collaborating cross-functionally to create environments where "doing the right thing" is part of a company's DNA.
We have to be smart, have compassion and be bold to up our game and create organizations that authentically and sustainably bring out the best in us. If we fail to do so, we can certainly expect to face the same scandal, toxic cultures and ethical shortcomings that have befallen the pretenders that have gone before us.
Are your employees as safe as they can be? Are the leadership interaction styles in your organization encouragingemployee engagement? Have your organizational safety numbers reached a plateau? Get advice from the experts at Excellent Cultures now about your business safety, where you are with your safety program and where you'd like to improve.

ABOUT THE CONTRIBUTORS:

As Principal at Donaldson Strategic Advisors,  Mr. Donaldson advises companies and executives on legal and business issues, including strategy, organizational effectiveness, general counsel services, compliance and negotiations.  He is a strategic thinker and expert problem solver who has a passion helping people and teams succeed.  Prior to starting Donaldson Strategic Advisors, Mr. Donaldson was Vice President Splenda Sucralose for Tate & Lyle and General Manager Global Acidulants for Tate & Lyle.  Mr. Donaldson began his legal career at the law firm of Winston & Strawn in Chicago.   He then moved to the Netherlands to oversee the delivery of legal services in Europe, Middle East and Africa for JohnsonDiversey.   After his stint in Europe, Mr. Donaldson returned to the US to head-up a legal division of Tate & Lyle before moving to the commercial side.   Mr. Donaldson has a B.A in Economics from UCLA;  a J.D. from Loyola University Chicago School of Law; significant course work in Leadership from Fuller Theological Seminary; and language studies at the University of Tubingen, Germany and the International Preparatory Institute in Budapest, Hungary.  Mr. Donaldson is married with three sons.  In his free time, Mr. Donaldson enjoys coaching his sons' sport teams, reading, traveling, working in the yard, golfing and fishing.

As principal at "Volare & Connecting", Dr. Giovanni Gasperoni advises companies and senior executives on business strategy, merger and acquisition, integration, growth and organizational strategy on a global basis.  Mr. Gasperoni is a Global Business Leader who positions companies for accelerating growth.  Solves complex business challenges using strategic business acumen, critical thinking and creativity.  Ability to make key decisions, introduce necessary change and ensure success.  Motivates (cheerleader), mentors, holds accountable and leads talented multi-cultural professionals. Prior to starting "Volare & Connecting" Mr. Gasperoni was Chief Administrative and Strategy Officer at Novus International, Inc., responsible for the company's Administrative and Strategic Planning Unit, with oversight for the Finance, Human Resources, Legal, Enterprise Systems and Optimization (IT), Corporate Development (Strategic Planning), Process Improvement, Strategic Initiatives, Internal Audit, Government Affairs and Industry Relations functions. This Unit also leads the long-range planning process for the organization and manages mergers, acquisitions and integration. Mr. Gasperoni has been instrumental in his prior role of Executive Vice President, Marketing and Sales, in leading Novus during its growth into a global health and nutrition company with sales of nearly US $1 billion. He has helped guide Novus as it diversified from a poultry market-focused organization into the Beef, Dairy, Pork and Aquaculture markets. Under his direction, Novus has grown from three core poultry market products to over 100 products covering strategic nutrition, gut health and feed quality throughout the animal agriculture industry. A native of Italy, Gasperoni graduated "cum laude" from the Faculty of Veterinary Medicine, University of Bologna. Gasperoni is fluent in five languages, English, Italian, Spanish, French and Portuguese. He frequently speaks at conferences and events around the world on a variety of topics related to forward-looking trends in animal agriculture.