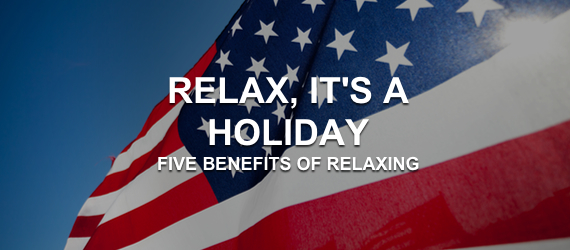 FIVE BENEFITS OF RELAXING
As you no doubt have time off with family and friends over this Independence Day weekend, make sure to actually kick back and relax. Having a holiday is about meditating, being grateful, recouping, restoring energy, vision, and drive. Not just for your future work, but you current personal life. Your family needs a relaxed you, your business needs a relaxed you, the world needs a relaxed you.

De-stress: Functioning under a constant burden of stress is like trying to fly an airplane with the wheels unlocked and the flaps down. There's more 'drag' and greater resistance against which much of your energy is wasted. Enjoy your favorite drink, get some sleep, ask a loved to join you in rest & relaxation.
Grow Creatively: Your best ideas often pop up when you're most relaxed and in free thinking mode. While working under adverse conditions may provide an adrenaline surge to meet deadlines, it really isn't a great way to spur creativity.
Evaluate and Assess: Relaxing from time to time lets you spend some time reviewing your performance and seeing how well things are going. Do you need to make an adjustment? Is some part out of balance? Are you doing what needs to be done? Is there anything you should be delegating? These answers are easier to find while you relax.
Celebrate: Taking time in your hectic schedule to break away from work and rejoice in what you've accomplished can be a forceful drive to achieve even more. If you can't do this daily, shoot for at least once a week. If you can't find something big to celebrate, why, revere a small achievement!
Rejuvenate: A short 'vacation' from the hustle and bustle of your typical workday can help ignite the passion and excitement that got you started and fired you up in the early days. Remember when running a business wasn't so much a chore as a joyous adventure? Capture that spirit, in a small way, through relaxing breaks from the routine.
Have an Incredible Holiday! (Happy belated Canada Day to our Canadian friends)