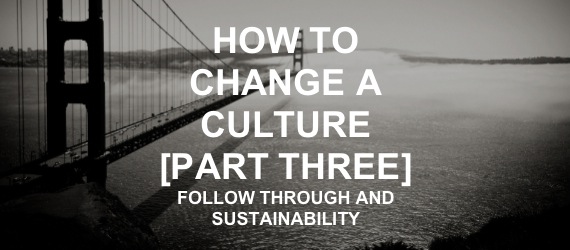 In this continuing series on changing culture we've diagnosed, we've begun instilling a cure, now it's time for one of the most critical elements to lasting culture change.
SUSTAINABILITY
One of the biggest challenges to creating and having genuine culture change is what we will call the sustainability issue. Anyone can yank the steering wheel of a ship or plane while the autopilot is engaged. By grabbing the wheel you create a temporary course adjustment, but sooner or later the autopilot will engage again and take over your efforts to manhandle the steering wheel.
A culture is the autopilot of any organization. It will either be created by accident or by design, but there is no mistake that it is the unconscious mechanism that functions behind the scenes of your company. Culture will either be building or destroying your organization from the inside out. At the root of every issue is a cultural problem that has sprung a productive tree or despicable weed.
UGH, CONSULTANTS
We know that outside input is a cog to the process of change that is unavoidable. You must have outside eyes to truly see what you are missing. But over the years our biggest beef with most consultants has not been in their ability to see problems, but in their inability to move beyond just giving advice and actually producing change. Change that is permanent, sustainable, and replicable. This is a rare commodity in today's consultant market. It is also why we believe so much in our process, experiences, case studies, and track record. Excellent Cultures produces sustainable change.
CONTINUOUS, SUSTAINABLE, AND REPLICABLE CHANGE
Change happens because people want it. A lifetime smoker may know that smoking is bad for their health but until a serious crisis affects their everyday life they may just go ahead and continue smoking. Even after a diagnosis they may still continue the habit because changing it just seems too far-fetched or out of their reach. There's got to be a noticeable difference that is clearly defined and seen by all parties involved if changes are going to progress and be sustained
The entire process has to be rooted into engaging the free will of everyone involved. Culture change is not something that happens because of top down leadership, it may start there but it happens because every participant has a part to play. This participation is different for every participant. Even if it's faux pas to say in most companies, the truth is that everyone has more invested into their marriage, family, and friends than they do in their jobs. Everyone has greater potential to do more than they are doing, and everyone has something they would like to change if they knew how to change it easily.
This is where the sustainability of culture change really takes shape. It's not about the company; it's about the people. This is why so many try to change culture in their organizations but fail to sustain the change. They continue to put the organization and what's best for it at the center of the change, rather than recognizing that the best asset of the organization is its people. Much like a sports psychologist or coach, we highlight the people in the organization by equipping each of them with the cognitive psychological tools to apply to the areas of change that they personally want to make in their lives. By doing this, we show we care about them, more than the bottom line.
Once they have the tools, implement them, and have success, then you have an environment of people who want to change, believe that they can change and understand the process of making change happen. You will have people who are receptive to coaching and excited to engage the process at other levels, including work! Much like going on a diet with a scale, when you base the coaching process on data and real measurement, and your people can see how they're making progress based on the numbers shown on the scale, great things happen! This is the foundation of sustainability.
However, ultimately the sustainability factor has to flow into connecting with business systems and processes. Every organization has systems and processes that were developed over the years to solve problems. To get the product to the customer faster, increase quality, increase customer satisfaction, the list goes on. One of the data tools we've developed at Excellent Cultures over the years is designed to help define the top ten business systems and processes that are the core of the success of the business. But it's not just about having good systems and processes that accomplish the solution to the problem.
The second half of that is finding out what impact do these systems and processes have on our culture and our work force based on how we implement them. You can have the greatest systems and processes in the world, but if how you implement them is making your people frustrated, stressed or angry, and they're looking for the union representative to stop it, that's not going to help anyone get anywhere. Leaders have got to have the data and tools to access their systems and processes both in terms of effectiveness and in terms of impact on the ideal culture that they have defined. Combine these two things together and modify your systems and processes so that they both solve the problem and build the culture that you want. Then you've got sustainability.
To Hear More on this Topic: How to Change a Culture Podcast
To Get Immediate Help with Your Culture: Ask the Experts Now