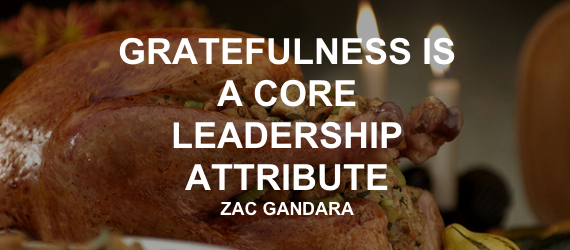 In America every November we celebrate Thanksgiving. No matter the historical premise for this American holiday it has become a time when we place our attention on who and what makes us thankful.
Research shows that gratitude is strongly and consistently associated with greater happiness. Reflecting on what one is grateful for results in more positive emotions, greater satisfaction from good experiences, improved health, greater ability to deal with adversity, and stronger relationships.
Dr. Michael Miller notes that whether someone is thankful for past blessings, present happenings, or is focused on remaining positive for the future, expressing gratitude forces him to refocus on what he has instead of what he lacks. And, while any expression of gratitude is likely to boost morale, like a muscle, this mental state grows stronger with use and practice.
Appreciation is a core leadership attribute. Thus it must be a habitual discipline of the leader. We must see that it allows us the freedom to see the best in others before engaging in the tasks of leading them to be better. More importantly it allows us the freedom to focus on the great things we already have instead of focusing on our own perceived lack. Are we aware of the importance of gratitude in our everyday role as leaders? As family members?
WE CAN STRENGTHEN OUR GRATITUDE BY:
Increasing awareness; make a decision to notice what you are grateful for.
Commit your observations to paper or electronic journal: write down 5 different things each day for which you are grateful. Remember, what you focus on increases!
Practice thanking others, verbally and in writing to express your gratitude and focus out.
Create and recite affirmative reminders of the things, people, and opportunities that you are grateful for.
"I am grateful for what I am and have. My thanksgiving is perpetual…O how I laugh when I think of my vague indefinite riches. No run on my bank can drain it, for my wealth is not possession but enjoyment."
― Henry David Thoreau