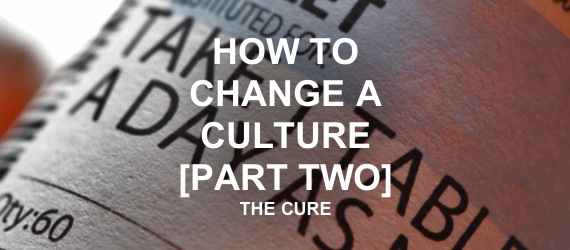 The Cure
You've read part one of this two part blog series and realized you've got culture challenges within your organization if you employ human beings. When confronted with a patient, every doctor is going to do as much testing as possible to learn about and diagnose the problem that may be going on in the patient's body so that the proper and most effective treatment is prescribed.
The most important thing to do when faced with symptoms within me as a leader or within my organization is to get help.
Get Help
Get help from an expert who has had years of experience and has clients that have terrific returns on their investment in culture. Review their case studies and look for results. Pride or overconfidence are the biggest obstacles to change in people or organizations. These belief structures keep us from asking for help and keep us from seeing we need help.
The help we get needs to be based on scientific results, not subjective opinion or warm and fuzzy conversation if real progress is to result. The reason the word "consultant" has become such a bad word is because there are so many money hungry, warm and fuzzy, opinionated, never tested, can't hack it out in the real world people calling themselves "consultants". You don't need a consultant. You need scientific data with proven ROI that has real world, proven business leadership history. Leaders need a fellow leader that can tell us the truth and show us the numbers that will help us see what needs to change and implement those changes quickly and effectively.
If the help you get is not data driven, then you run the risk of wasting a lot of money on a problem, a consultant, or a team that produces shallow results or results that are not sustainable.
Too Often We're Blind
Human beings are famous for not being able to see the trees through their own forest. We're all built in a way that to maintain our own sanity we have to prove that what we're doing, and how we're doing it, is the right way. For us to know what we're doing is not good and continue to do it proves either that we're insane, blind to our own faults or completely arrogant.
An organization is a collective of human beings that can't see our own trees through the forest. That's why when we have pains in our body we go to the doctor for help. Through science and the tools they've been given, doctors can see what we can't. Thus they can help us get on the road to recovery rather than keep us in the place of deception. Sometimes we know something is going on, we know we are in pain, but we're too stubborn to get help. Quite possibly we're just too scared to get help.
We see what we want to see, we see what we like, what we enjoy. We see what we're proud of, we compare ourselves and then we often avoid the things that challenge us. We ignore the things that make us have to change.
We all know that change can be difficult and almost impossible without crisis enforcing change.
Instilling Change in Leaders and Teams
Leadership that recognizes they have blinders on, those that realize they can't see the trees through their own forest is real leadership. When you think you're quite successful as you are is when it's really time to reach out to get the help to see clearly. Excellent Cultures has had nearly 40 years of experience with the greatest psychologists and doctors to help us develop scientific assessments and tests that give us data to identify where change is needed or change is happening.
The First Step | Measure and Benchmark
Measure and benchmark it with the data. Use the data you get through the scientific process to grow "buy in" from the leadership team. It's very hard to get buy-in because you "feel" or "sense" that change is needed. You have to know and prove that change is needed.
Step Two | Create Culture Changers
Peter Drucker said, "Culture eats strategy for breakfast." The best way to determine your future is to create it. You've got to have the right expertise in place to use the scientific data to build a consensus around what you want to change. When there is passionate buy-in and team leaders that are frustrated enough with all the stuff that's gone on to slow them down over the years and they now have data to know what's causing it, that's when the genesis of change begins.
Continuation of this three part series:
How To Change Culture | The Follow Through | Part Three