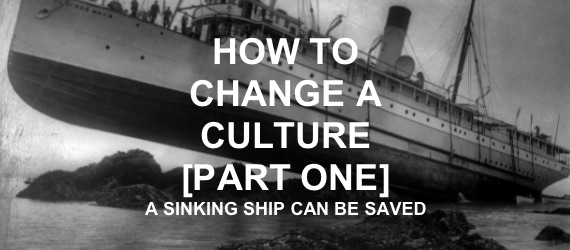 Part one of a three part series. How to recognize a culture change is needed.
The Sinking Ship
An underperforming culture looks like anything in-between a sinking battered battleship to a shiny new Titanic. One has been through war; the other is fresh from the paint booth. Both are sinking despite how they look on the exterior. One may have a humbled heroic captain grasping onto the sinking ship as its crew has fought gallantly to keep it afloat. The other with an arrogantly blind captain grasping to the notion that his boat is the best, all the while it's going down and taking people with it. They're both going to hit the bottom of the ocean.
What Does a Sinking Ship Look Like?
Here are some symptoms your ship may be going down:
What About Me Syndrome – Selfish teams never go far.
Foggy Priorities – Teams without clarity always stumble.
Fear – Teams need to feel confident that they can share openly.
How Do These Cracks Manifest?
Lack of a true collective passion for excellence.
Underperforming people.
Rapid change in a structure, like a merger or acquisition.
Lack of follow-through on commitments made by team members.
Team members giving up accountability.
HR issues stemming from certain leaders.
Shallow communication.
Turnover.
Low sales.
Sneaky politics.
Low motivation levels.
High number of sick days used.
Lack of quality.
Team members smile and head nodding leadership rather than confronting issues.
Often the larger the organizations are, the more these symptoms tend to hide under the surface.
Jim Collins (Good To Great) taught us that it's easier to get a terrible organization to be great than it is to get a good one to be great. In this he shows us that the blindly arrogant captain may have the most challenging symptom to deal with of all – pride. Arrogance is the biggest obstacle to changing a business culture.
We all build a culture around us, either on purpose or by accident. Culture happens by intent or neglect. It will crave crisis, mirror mediocrity or ignite excellence. Are you intentionally shaping yours?
Continuation of this three part series:
How To Change Culture | The Cure | Part Two