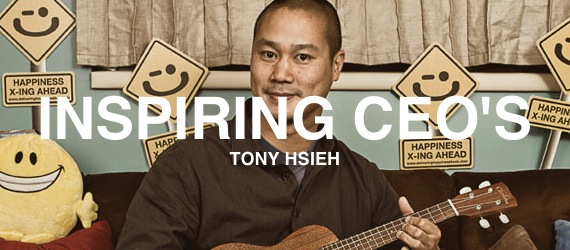 W
e consistently like looking for inspiring CEOs of Corporate Culture and enjoy highlighting them. Clearly Tony is a master of online business strategies. Some of Excellent Cultures' favorite things to focus on are values and employee engagement in the workplace. No matter where you go, organizational studies and human resource management are a major factor in the business world. Often they are belittled and fall behind the shadow of production and profitability. It's been proven time and again that these are two sides of the same coin and not at war with one another. Each are vital to keep organizations moving forward.
There is no doubt that Tony Hsieh has been spotlighted as someone who has effectively moved Zappos forward in production and profitability. One of the things we find fascinating about Tony has been his recent switch to a wider-angle view.
Zappos moved its headquarters to Henderson, Nevada, a suburb of Las Vegas, back in 2004. He explains the decision simply: "It seems there weren't too many people in the Bay Area who thought of working in a call center as a career calling." By 2010, though, the company had outgrown its headquarters. Hsieh got to thinking about what makes for a thriving community, both inside and outside a company's walls. Inspired by Harvard economist Edward Glaeser's 2011 book, Triumph of the City, which explores the ways cities and humans interact and depend on one another, he eventually decided to move Zappos into Las Vegas' empty City Hall, in the long-overlooked Fremont neighborhood. The idea was classic Hsieh. In the same way he had succeeded in somehow making customer service fun, he was determined to flip traditional ideas of the company "campus" on their head. He cites statistics showing that when a city doubles in size, its productivity increases by 50 percent. When companies double in size, their productivity actually drops. "So we're working on this weird hybrid approach to try and prevent that," he says. Population density is key. Zappos' space per employee — 120 square feet in Henderson versus a national average of 200 to 300 — will shrink to about 100.  He's also part of a team of investors pumping $350 million into revitalizing Las Vegas. (EXCERPT FROM: Esquire)
This is fascinating! It seems so basic and easily applicable to every corporate structuring. We have to understand that the basics of small business still work in the large corporate culture of a business like Zappos. Zappos was considered too big of a giant for Amazon to kill, so they purchased it for $1.2 billion instead of trying to compete with it.
The nature of small business is to add value to the neighborhood. Creating community, not just profit, although we all agree profit must take place. Being someone who lives in the most densely populated urban area of Seattle, my wife and I greatly value the places we go to have a cocktail, a coffee, grab a book, or have a bite to eat. The walking distance of these businesses and the community we find there are what we appreciate most about them, far beyond their product.
When I talk to other people about their ideal living situation, many have a vision of a neighborhood with character, where you can walk to a neighborhood beer garden on a Friday night or a little bakery on a Sunday morning, and have serendipitous meetings with friends and neighbors.
Tony has begun doing this with Zappos. He hasn't forgotten what truly valuing humanity creates within a company and in its customer base. People want community, not just a product.
Perhaps it's too far removed from us, but remember the old days when you wouldn't commute to work? Remember when you lived in the area you worked? Local shops, restaurants, boutiques, and the like were where you got everything you needed. We built relationships and community around these interactions. Some of our basic human needs are dependent on the simple fact that we need each other.
When asked why he's part of a team of investors pumping $350 million into revitalizing Las Vegas, Hsieh replied that it's not all altruism and corporate advancement. Hsieh has a more practical reason:
"Why else am I doing it? Because I live there. That's why."
Maybe we can get back to the basics of seeking the welfare of the city where we live, realizing that in its welfare we will find our welfare. In the day of corporate giants, franchises, and chains, we still need each other. It will take great risks to make changes which value humanity. It will take us choosing inner peace over King Kong profits. But in the long run, peace is what matters and profits will come, they will also go. Thanks for leading the way Tony.
Excellent Cultures has been building "Tony Hsieh" style business cultures for over 35 years. We'd love to chat, talk to our experts for free now: