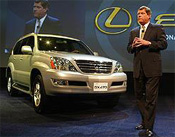 DENNIS E. CLEMENTS was an officer of Toyota Motor Sales, USA. He served as Group Vice President and General Manager of the highly acclaimed Lexus USA Division from 2000 to 2005, where he led the process of building the automotive culture that set the bar for the industry. He was previously President of Toyota's Central Atlantic division from June 1991 to June 2000, and held a number of other senior management positions at Toyota. Earlier in his career, Mr. Clements served Ford Motor Company for 15 years, progressing through a variety of sales and management positions in the Ford and Lincoln-Mercury divisions. Dennis first encountered Excellent Cultures' leadership tools nearly 30 years ago during a career transition between Ford and Toyota. He subsequently built five excellent cultures in various divisions with Toyota. Denny's employees and associates affirm him as a highly creative, visionary leader with a straightforward approach and high integrity that continuously set performance records in every position where he served.
Mr. Clements also serves on the advisory boards of high tech firms Noribachi L.L.C. and its affiliate, Qnuru, as well Asbury Automotive, a Fortune 500 Automotive Consolidator. He holds a Bachelor of Arts degree in Political Science from the University of Buffalo. Denny and his wife Sharon currently reside in the Santa Fe New Mexico Area.
EXCELLENT CULTURES INTERVIEW WITH MR. CLEMENTS
In all of the years that you have spent building high performance cultures, what do you think was your biggest success and your biggest struggle?
I think my biggest success was when I was running Lexus in North America. Lexus was an interesting phenomenon. I had 30-some years in the car business with Toyota and Ford. The model at Toyota was always incentives and a lot of advertising, get people in, generate a lot of traffic, sell big volume.
I remember my first day at Lexus. At my first introductory meeting I asked, "What have we got going on this month?" Everybody looked at me kind of funny and said, "Nothing." It actually took me back because all of a sudden I realized someone has to show up and want to buy these cars. Then it became apparent to me that every transaction at Lexus was really our marketing budget, and trust me, it is a lot harder when you are running 15,000 sales a month and relying on 200 dealerships and all the people to sustain a culture where every interaction is marketing.
So, that was a huge challenge and at Lexus we were very successful. I think the challenge is, how do you get to those salespeople, partners and associates down through the organization to be advocates of sustaining that kind of culture, to make an advocate out of a customer?
How did you feel like you did that? How did you reach them?
Certainly you've got to have a credible product – a product that delivers on all its promises; a brand that delivers on its promise. But I think from the standpoint of working with dealers, who are independent business people, it starts with credibility. They have to genuinely believe that if you are asking them to do the right thing at all times, that you are going to treat them the same way.
So at Lexus, the goal was to create advocates of our dealers. For them to believe in the idea that you could really change the car business and really create a culture where on a very consistent basis you surprise and delight the customer.
I think the challenge is communication and execution and training. You've got to get people the tools. You've got to constantly reinforce that by acting in a certain way; that it's in their best interest. And in fact, what happened is, by always doing the right thing for the customer we attracted sales people from other franchises that really were pretty excited about leaving the store at night and feeling good about what they did during the day.
After a while, the culture once you get it really burning, it begins to self-fulfill. They believe that this is who we are. This is what we are like. Then you begin to attract like people.
With all of the mistrust that exists in the auto business between dealers and manufacturers and sales people and customers, how did you get them to believe you? How did you get them to trust you when you first started telling them this?
I think it was the belief in the parent company that we were going to give them world-class products and that we were going to protect and be very concerned that our dealers were successful. Unlike other manufacturers we had very few outlets. We really took great concern to be sure dealerships were going to be very profitable because we knew that for them to offer the amenities and do the training and make the commitment to facilities, that they needed to be successful.
I think it started with the recall in 1989 of the Lexus LS where there was a rear high monitor brake light that wasn't functioning well. I wasn't there, but Lexus had a recall (normally and prior to that moment a recall was an extremely negative thing) and Lexus really reinvented that whole experience. They contacted all the customers, gave customers amenities, picked up cars in Alaska where there was no dealership and did all kinds of amazing things. Out of that, Lexus really convinced the dealers that this company really meant what they are saying, there really is a lot of integrity in this business.
I think it starts with integrity; everybody has a mission statement and a vision. Everybody has been around for a while. It doesn't take long for people to figure out whether you are for real or not. (7:10)
Yeah, that is so true. One of the things I always heard from dealers who were in the framework and had the opportunity to deal with you. I don't know if you remember this – I'm sure you heard it – that the thing that they liked about you the most was that your integrity was such that they could always depend upon whatever you told them was going to happen always happened and they could always trust that you had their best interest at heart, in a very unselfish way and that you would always tell it like it is. How did you get that message across?
I think early on in my career through Excellent Cultures I was really exposed to the curriculum and began to realize that in order to be successful, the people around you have to be successful. I quickly understood that in order for me to be successful, the dealers had to be successful. I always had their interest. I represented the company as well, which I did well. I think the dealers understood that if I said something was a good thing for them, they would tend to believe me and if it wasn't I would say, "Hey, you know these are the pros and cons. You make your own decisions." I never misled them because I always understood that relationships that are going to gain strong buy-in have to start with integrity and credibility. So I was always very conscious of the facts, whatever I told them we had to deliver on. At times, that didn't always happen but I think they understood our spirit of intent was one of a win/win relationship and I think that served me well.
More of this interview to come in later blogs. Follow @XLNTCultures for updates, or subscribe to our daily Culture Coaching.
Want to build an excellent culture in your business?  Tell us about your business and the vision you have for your culture.  Ask the experts.