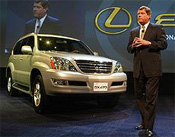 DENNIS E. CLEMENTS was an officer of Toyota Motor Sales, USA. He served as Group Vice President and General Manager of the highly acclaimed Lexus USA Division from 2000 to 2005, where he led the process of building the automotive culture that set the bar for the industry. He was previously President of Toyota's Central Atlantic division from June 1991 to June 2000, and held a number of other senior management positions at Toyota. Earlier in his career, Mr. Clements served Ford Motor Company for 15 years, progressing through a variety of sales and management positions in the Ford and Lincoln-Mercury divisions. Dennis first encountered Excellent Cultures' leadership tools nearly 30 years ago during a career transition between Ford and Toyota. He subsequently built five excellent cultures in various divisions with Toyota. Denny's employees and associates affirm him as a highly creative, visionary leader with a straightforward approach and high integrity that continuously set performance records in every position where he served.
Mr. Clements also serves on the advisory boards of high tech firms Noribachi L.L.C. and its affiliate, Qnuru, as well Asbury Automotive, a Fortune 500 Automotive Consolidator. He holds a Bachelor of Arts degree in Political Science from the University of Buffalo. Denny and his wife Sharon currently reside in the Santa Fe New Mexico Area.
EXCELLENT CULTURES INTERVIEW WITH MR. CLEMENTS
What do you think are the two or three biggest decisions that you ever made that contributed to your success?
I think in terms of the drive and energy and the skill, but I think early in my professional life I was exposed to the Excellent Cultures curriculum and out of that it really made me so much more of an effective communicator. I knew how to deal with adversity. I knew how to set goals. I learned all that and that was the foundation and that may sound a little self-serving to you, but it is true. That was the foundation.
I had adversity and I wasn't always the most political person. I had setbacks in my career and I learned once again through goal setting the importance of resiliency and perseverance. I always had my core understanding that, for me to be successful everyone around me needed to be successful – people that worked with me, people that we were interfacing with. I know that sounds trite today, but at the time there weren't any business books on this subject. It was just something that I figured out. I remember early in my career calling the dealers at Ford. I made some mistakes and I was young and aggressive and I learned from those and learned what was important.
What do you think the biggest mistake you ever made was?
Well, I don't think I can say one mistake. Most of the trouble I got into in my life was that I was a change agent and I would often get out in front of the organization and not communicate effectively with the people I reported to. At times I was maybe overly frank and honest in my discussion and feedback with them. So I think I was locked in and focused on what I was trying to do and at times didn't have the empathy for other people in different parts of the organization.
So you were moving too fast in your vision and not enough empathy for …
Maybe not taking the time to create the buy-in to other stakeholders. Either corporate stakeholders, peers or people who were in my immediate realm of responsibility. I think that was the passion in me, to make things happen.
So it was almost like your biggest strength was also your biggest weakness?
Yes. I created a lot of advocates. Fortunately for me they were people I was working with or the dealers. Unfortunately for me sometimes I didn't create advocates with the people I was working for because I didn't take the time to really communicate what I was trying to do. I didn't have the patience to talk and convince them. I just went ahead and did things. That mostly worked. LOL
I guess the best way of responding to this was that I would always ask for forgiveness instead of permission. There were moments in time when I didn't quite get the level of forgiveness that I should have gotten. LOL
What a great attribute. You mentioned in your email that "Culture is everything. Customer loyalty has moved from satisfaction to surprise and delight me, I may be back." Can you expound on that a little bit?
Here is the way I see it today. I think customer satisfaction has really changed. I think if you are in business today you have two choices, sort of a continuum, there really is not a lot in the middle. You can either be a commodity – be a commodity and sell the product, don't worry if anybody is coming back and spend a lot of money every day getting customers to show up and you can be successful doing that. It takes a lot of energy. As soon as your product becomes a little obsolete or you have any adversity then you have trouble.
I think the other option is to try to create an advocate of the customer. If you are going to create customer advocacy, which means the customer is going to come back, the only way you can do that is – you can't do that because you are working for a company. You can't do that because people are working for you. People in the organization work for – they don't work for Toyota or Lexus – they work for a manager. That manager has a huge impact on their level of advocacy to the mission of whatever you are trying to accomplish.
The associates at the end of the day – it's the guy in the service drive or the sales person – they are either excited and totally brought in to what you are trying to do or they are not. You have to have a culture where managers are interested and care (legitimately care) about the associate's welfare, the people that work for them. If the people that work for them, if they really believe that, the culture is one of the facilitation of success – you can have high standards and high expectations.
You are bringing people along with you and you have a credible product to sell and you create an energy that comes out of that culture that creates a customer experience. That surprises and delights the customer because frankly that doesn't really happen very much in life. Customers are saying, "This place is a little different" and come back. Even when you have a period of time when the economy is not on the top or you don't have new products, those people will stay with you because your business is different from other businesses they happen to visit.
Other businesses are so focused on satisfaction which means the customer is satisfied, everything went fine, and that used to be a big deal in the early days of JD Power and they were going to measure the customer's satisfaction and measure associate satisfaction. Which means, hey I'm glad I get a paycheck and I'm glad I'm here and if the heat comes on there is air conditioning and you know it's a job and I am very satisfied with my job.
Those old satisfaction goals are so antiquated today in this era of social media and where your reputation is out there for all to see. You have to – if you are only striving for customer satisfaction – you are really spending a lot of money. You are creating a lot of drive and energy – it is just getting people to buy something and that is fine. There is no intention there. There is no thought in the customer's mind that this business is really different and I'm just not going to go anyplace else. I'm going to go back.
To earn customer loyalty, today has gone from a satisfying customer experience to "I can get a cup of coffee" or to get a service loaner to now you've got to surprise and delight them.
I'll give you an example of what happened to me one night at dinner. This couple had ordered some red wine and I had ordered a glass of Malbec. My wife really liked my drink and she commented to the waiter that she wished she had ordered the Malbec. The waiter immediately took her wine and gave her a glass of Malbec. It was such a surprise that it came through that this restaurant was different.
Most of us have hundreds of transactions a day, but every so often somebody just kind of blows you away because it was so unexpected that it really captures your attention. You say this place is really pretty cool.
More of this interview to come in later blogs. Follow @XLNTCultures for updates, or subscribe to our daily Culture Coaching.
Want to build an excellent culture in your business?  Tell us about your business and the vision you have for your culture.  Ask the experts.