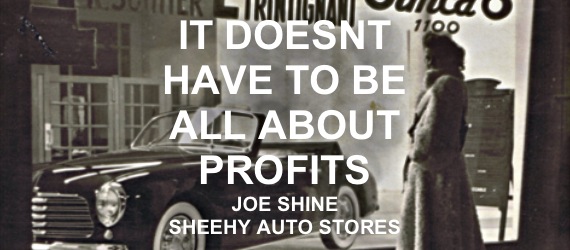 A Sales Driven Company Doesn't Have To Be Just About Profit
with Joe Shine, CFO Sheehy Auto Sales
Culture Leaders meet Joe Shine, the CFO of the $900 million company Sheehy Auto Stores and recipient of the CFO of the Year Award by Atlanta Business Chronicle. From simple beginnings in 1965, Sheehy Ford began as a small, suburban, family-owned car dealership just off the brand-new Washington, D.C. Beltway. Because of their customers, they were immediately successful, and by 1975 had become the largest Ford dealership in the country. Today, the company is still primarily family-owned and has grown to more than 30,000 vehicle sales per year. With stores located from Baltimore, MD to Richmond, VA., Sheehy has 19 locations in the Mid-Atlantic region with 21 franchises.

Highlighting this leader in this company is easy. It's a story that needs to be told. Leadership styles in the transportation industry are notoriously in need of improvement. Joe and Sheehy deserve to be recognized in this area. Just take a look at couple of pages on their site and you can just feel how they value their employees, which in turn value their customers. Using language like, "Because of you, the customer, we were immediately successful" and "Our employees are our greatest asset, and they set us apart from other dealership organizations in this highly competitive market." Being a culture leader in the automotive industry is no small feat! Who have you ever spoken to that loves going and buying a car – let alone work for a car dealership? Shine won Best Places to Work in Atlanta as a leader when he was with Nalley Automotive there – the first automobile company ever to win and they were the first company of any industry ever to win two years in a row. This took place just two years after completing the Excellent Cultures curriculum and process. Joe was then recruited as CFO for Sheehy Auto Stores because of his leadership excellence and moved to the DC area where he currently serves the Sheehy organization.
Sheehy is the real deal and is a great model for what an excellent culture looks like. A client and friend, Joe Shine is an integral part of the Sheehy way. We sat down with him to hear his wisdom so we could share it with you.
CULTURE OF ETHICS, VALUES AND EMPLOYEE ENGAGEMENT?
Organizational studies and human resource management consistently show high turnover in the sales industries. This isn't so at Sheehy Auto Stores. We asked Joe what he considered an ideal culture, especially knowing that car dealerships notoriously have a negative image. He proudly stated, "I've always chosen to work for companies where I can be proud to work."
In fast paced sales industries where high dollar spiffs and bonuses rule, Joe shared with us a different way to go. "We have to treat people the way they want to be treated. When we send a customer or a friend to one of our stores, they come back and rave about how they've never been treated by a car dealer this way before."
"We have to treat people the way they want to be treated. When we send a customer or a friend to one of our stores, they come back and rave about how they've never been treated by a car dealer this way before."
This culture happens because Sheehy trusts and empowers their employees to do the right thing. "We don't criticize or correct their decisions, just coach them on it. This shows them that we trust them."
Joe let us know that when they put that kind of trust in their teams, it makes it a fun place work. No one's worried about getting yelled at or ridiculed; they look forward to contributing and adding their value and ideas to the entire company.
Too often we see that the direct sales industry puts the sales associate at the center of his or her own existence. By placing a person on commission, they're naturally directed to focus on their own survival rather than placing the customer first. Sheehy wants the customer to be the center of their existence so there isn't an emphasis on commissions with the sales force. This means their employees can maximize their focus on serving customers, not trying to maximize on the profit and forgetting about the customer. Sheehy works hard to show their employees how much they are valued so that the sales associates can experience it and value their customers in the same way.
How about these customer focused policies for an automotive dealership chain: In the 1970's, Sheehy launched a three-day, money back guarantee for any dissatisfied customer – a first ever in the market. In 1991, they began the now famous Sheehy Markdown to ensure that no customer ever pays too much for a vehicle at any of their stores. Every new car and truck is value priced below the manufacturer's list price with a Sheehy Markdown sticker prominently displayed on the windshield. Preowned cars and trucks are priced at the market price. If vAuto says the car is worth $19K, Sheehy prices it at $19K, not $22K, trying to make an exorbitant profit. Sheehy does this because their focus isn't vehicles out the door; it's long-term customer relationships based on trust and integrity.
Their customer-centric approach has earned their stores some of the most prized awards in the industry. All of their Ford stores are Blue Oval Certified. The Glen Burnie, Manassas and Annapolis Nissan stores have all earned Nissan's Owner First Award for their achievements in customer satisfaction. In addition, their Honda store is a past President's Award winner. Their Lexus store has earned the highest awards given by Lexus and is a "Lexus Elite" award winner. And let's not forget their Infiniti store, an Award of Excellence winner. These awards are only possible due to customers' glowing responses to their sales and service.
AVOIDING THE VALUE SYSTEM DETERIORATION IN ORGANIZATIONS
Joe shared his thoughts on how Sheehy maintains high standards of ethics.
"When you have a bad month, it's easy to throw everything out the window. A couple of bad months and you start putting pressure on your employees. Companies start putting pressure on people to compromise ethics and values, turning it into a not very fun environment to work in. The key to any organization's long-term success is staying true in the hard times. It's easy to change when times are tough, but good companies like Sheehy are in it for the long haul."
Being in it for the long haul, not just the current season, is what separates the good from the great. Joe continued, "It's not a daily game but a lifelong game. When someone makes a mistake and compromises, we believe in coaching them back on track to the fact that our Customers for Life Philosophy is the best path and the way we choose to go. Sheehy has a lot of long-term employees and has been in business for a long time because of this."
Employee engagement is always a key to longevity of employees. Joe shared that when he's seen people draw back is when they don't feel empowered to make the right decisions because they fear that they are going to be yelled at or disciplined. They disengage when they feel mistakes aren't allowed. Sheehy has worked hard to have policies that empower their people to not just be proud of where they work but to feel free to do what it takes to make changes that need to be made to serve the best interest of their customers.
SOME ADVICE FOR TODAY'S BUSINESSES AND CORPORATIONS
We loved hearing what Joe had to share regarding how other organizations can learn from Sheehy's model. Sheehy being in the automotive industry has shown that you've got to be different than most for customers to come to you and stay with you. You've got to treat people like family members. Then they'll go out and tell a lot of people about that and your business will grow.
According to Joe, this begins with treating employees like family members. If you have employees who enjoy working for you, you have happy customers. Employee satisfaction leads to high customer satisfaction. If you do things right, you get the benefits. If you don't, you pay the price. "As leaders, we need to make sure that our people never have to face the temptations of high pressure to take shortcuts wherever we can."
"As leaders, we need to make sure that our people never have to face the temptations of high pressure to take shortcuts wherever we can."
One of the biggest yet most simple things that make a huge positive difference is to just show people that you care about them. It goes further to develop trust and success than any other factor. They don't care what you know until they know that you care. If they feel this, they'll go through walls for you. This goes for employees and customers.
JOSEPH E. SHINE, CFO SHEEHY AUTO STORES
Joseph Shine is a dedicated CFO with 14 years experience as CFO of multiple automobile dealerships, 9 of them as part of a public company. He has 22 years of automotive experience as Controller, Corporate Controller, and CFO. Mr. Shine is currently CFO of a family owned dealership group, Sheehy Auto Stores. There are 19 in Richmond, Virginia and the Northern Virginia/Maryland area. Franchises include Nissan (7), Ford (6), Lexus, Infiniti, Honda, Volkswagen, Hyundai and Subaru. Annual revenue is approximately $900 million.
Mr. Shine's strengths lie in operations management (all departments), internal systems and controls, strategic planning and implementation, acquisitions and divestitures, as well as employee relations and low employee turnover.
Some of Mr. Shine's key results have included consolidating 10 accounting offices that resulted in $2.8 million in personal expense reductions. He has previously reorganized accounting leadership focus that reduced expenses by $1 million without any decrease in performance. In addition, he completed DMS conversions at 50% of dealerships to ADP, completed standard chart conversion at all dealerships, and converted all stores to a centralized payroll department. The changes Mr. Shine has implemented have resulted in greater predictability of results and much more consistency dealership-wide in accounting procedures. His changes have improved net income to gross by 3.5% in 2010 through improved operations and better expense control. Gross profit increased $67 million with 63% flow through to net income.
Mr. Shine is the winner of the CFO of the Year Award – Community Service from Atlanta Business Chronicle 2008 and Nalley Automotive Group, Best Places to Work, Atlanta Business Chronicle 2006 and 2007. He is a dedicated to serving his community by serving on the Board at Children's Healthcare of Atlanta, Sports Network Advisory Board as well as the Junior Achievement of Georgia since 2011. He was also the President of Norcross Youth Baseball Softball Association.