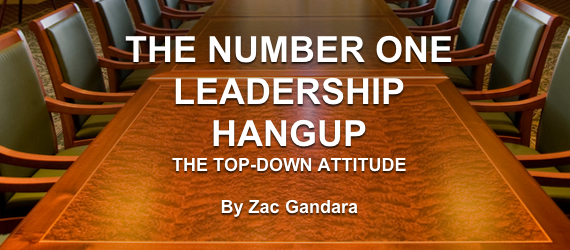 Every one of us has a default mode of leadership. That default mode is top-down. We naturally fall into the trap of this form of leadership for a few reasons. The natural self prefers to dominate others and to try to amass power that can be held over other people. Leadership, by nature, seems to entail one person lording over another. Another reason is because it's traditional. Historically, autocratic, top-down leadership has been the most commonly practiced method. It's the easiest. It is much easier to simply tell people what to do than to attempt other, much more effective leadership styles.
Where Top Down Shows Up:
Abusive authority
Deplorable delegation
Lack of listening
Dictatorship in decision-making
Lack of letting go
Egocentric manner
There is another way to lead, a more effective way. A way to lead that draws people in, gives them value, a place to voice opinions and concerns, as well as release their creativity. A type of leadership where community is formed and the greater good is always on the forefront of conversation and released creativity.
There is a great personal cost to becoming a leader of this most excellent and effective way. It comes at the personal death of our selfishness. It puts us, as the leader at the bottom of the pyramid rather than the top.
The Cost of More Effective Leadership:
The denial of ourselves to build and prefer others.
The denial of our most basic selfish nature.
The denial of our own opinions to allow others voice.
The denial of our individualism, to give way to community.
The denial of our independence, to work together with others.
The denial of what we want. To yield and provide for the greater good for all.
The denial of our vision, to come to a collaborative vision where everyone has ownership.
Becoming an Effective Leader means that the largest death we must face is to our own egos. But if we're honest, isn't it a most freeing proposition to be able to see ourselves living a life of leadership and service to others in such a manner that our egos are no longer in the way? Only the best leaders ever reach this plain of leadership.