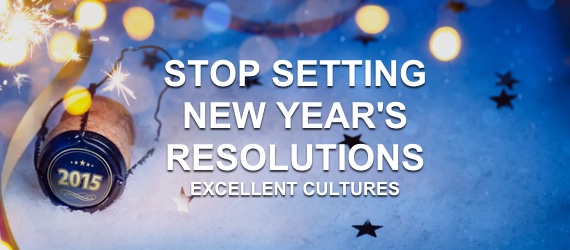 Why do we as individuals spend so much time making New Year's resolutions only see them fade away in few short weeks? Why do our businesses spend so much effort and money developing systems and strategies only to find that many go by the wayside time after time? It could be that we've failed to realize that what Peter Drucker taught is fact: "Culture eats strategy for breakfast."
At Excellent Cultures we spend all of our time and energy in the areas that produce the most scalable transformation and return on our investment. Life is short. Why waste time and energy on things that don't produce the desired outcomes?

Since culture is what produces the most return on investment, spend your energy there. We use the terms personal culture and collective culture a lot. Each of us has a personal culture, the culture that exists in the minds and hearts of every individual. It is made up of our beliefs, mindsets, values, habits, communication styles, and behavior. This personal culture is lived out either by intent or accident.
A collective culture is similar, except that it is the culmination of the personal cultures of others in a community, team or organization. It is also lived out either by intent or accident.
Intention requires a clear picture of the desired culture, the buy-in of each constituent, then a collective effort to move towards the desired culture. This is why New Year's Resolutions never work. Often our resolutions are just dreams, they are things we desire, sort of. They are a pipe dream of a life we may want to live. Where they fall short…we're not really bought into the idea of doing what it takes to reach these resolutions. They simply remain dreams because our personal culture hasn't changed to accommodate these dreams as reality.
So we decide to put forth more effort. Get a gym membership. Force ourselves to get up earlier. Start choking down protein drinks. Sooner or later this effort goes for not because our psychological auto pilot, our personal culture, was not changed.
Let's put those barriers to personal change to rest. It's not so much putting forth more effort as it is being more intentional in how you think and then act. In fact, you'll discover in many cases, the more effort that you invest, the harder it is to make the changes you want. Sports psychologists have proven this truth time and time again. Practice makes permanent, not perfect. When an athlete has ingrained the right mechanics for their sport, it's actually relaxation that produces better results than trying. Willpower always fails to provide lasting change because it is our dominant attitudes and beliefs that ultimately guide us. That's why New Year's Resolutions typically last just past the second week in January.
Our personal cultures are made up of our personal habits, attitudes, and beliefs. Whether we realize it or not, we each have been given the free will to choose our attitudes, habits and beliefs. We also choose what we focus on and how much effort we put forth. High performing people understand this and operate accordingly.
Instead of setting New Year's Resolutions choose to focus on what you can control…

Habits: Begin a new habit gradually. For instance, if you are desiring to remove artificial sweeteners from your diet, rather than going cold turkey on day one, begin adding a half a packet of stevia to your coffee that usually has two packets of artificial sweetener. You still give yourself a packet and a half of what you're used to, but you've taken a step towards making a new habit. Continue to add more stevia throughout the next week or two and before you know it, you're off artificial sweetener in your coffee.
Attitudes: Our attitudes are key to our transformation. We can't have a bad attitude towards change and expect it to actually happen. We have to have an attitude that serves the desired change. Attitudes are easy to change.
Attitudes toward desired outcomes are created and controlled by managing three personal areas:
Words (trigger) ⇰ Pictures (which bring on) ⇰ Emotions (feelings)
Beliefs: A belief is an idea or principle that we judge to be true. We are only limited by the beliefs we allow within our personal cultures. Our beliefs must serve our desired outcome. If they do not, we must change them.
"You must do the thing that you think you cannot."
Eleanor Roosevelt
Effective Effort:
Effort applied that makes a substantive, permanent change in the subconscious image of an individual, team or organization's dominant belief system produces unconscious competence and beats willpower every time.
Motivation is a key component to your desired changes this year.

Restrictive, forced or mandated "have to" changes are resisted and temporary. Constructive, desired, sought after "want to" changes are easily embraced. This principle is clearly understood by looking back on the mountain of failed New Year's Resolutions we all have. Whether it's an external force pushing on you or you pushing on you, the end result is the same: PUSH BACK. Understanding the way our minds respond and how PUSH BACK is caused establishes the high value of utilizing constructive motivation to attain desired results.
So drop those resolutions and feel free to design your new personal culture!
Get a jump on your New Year Transformation with an upcoming Building Excellent Culture Workshop…