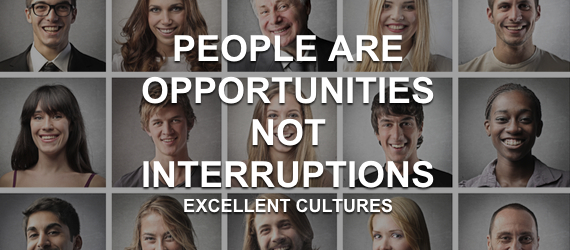 TOP TIPS IN RELATIONSHIP RESOURCING
PEOPLE ARE OPPORTUNITIES NOT INTERRUPTIONS
The greater the leadership role, the less time there seems to be for people. The constant emails, phone calls, meetings, planning meetings about the meetings. If you haven't already realized it, the leadership role you thought you were born for is often not what it turns out to be. You may have gotten into the business for the people, now you're inappropriately spending too much time on administivia that you should be delegating to someone else.

It doesn't have to be that way. In fact, we cannot let it be this way. The greater the leadership role, the more important your relationships are with people. All task-oriented type A personalities must learn to slow down and actively draw people into our lives and intentionally engage with them in theirs. It may seem necessary for us to pack a full schedule and keep up with e-mails, phone calls, and text messages, but we will only impact people permanently by one-on-one contact. One-on-one contact can't be substituted. Leaders who allow the benefits and speed of tech to be a substitute for real face-to-face contact with the human beings in their lives always pay a severe price later.
Instead of using the term 'leadership', let's interchange it with the word stewardship. We as stewards have been given relationships in our lives through our workplace. We generally think of stewardship in regards to finance. Money is an important resource in our companies but is it the most important? We would all agree that human resource is our greatest resource, and fundamentally the core of all our assets. As a steward within an organization we must ask ourselves…how are we stewarding our relationships? Each person is a relationship. Each person is a valuable asset to kin, country, and company. We steward money, time, equipment, real-estate and calories. We often forget the most important asset, relationships.
In this age of telecommunications, there is still no substitute for a one-on-one, face-to-face conversation. Lasting, sustaining, change and growth within an organization happens through relationships not in isolation. Only through association is there transformation.
People are opportunities, not interruptions. We all have different personality profiles, gifts, talents and social preferences. Some leaders are more introverted while others are more extroverted. It's not our differences that we should focus on, but our similarities. It's time we stop doing the needful, distracting things and intentionally carve out some time to nurture relationships.
TOP TIPS FOR RELATIONSHIP RESOURCING:
Genuinely care for them – from the heart. Compassion cannot be faked. If you just want to use these tips so you can get better productivity out of people, you'll soon find out that your efforts will implode. There is a beautiful byproduct that comes from having a culture of respect and relationship. It produces accountable productivity of all constituents. But without genuineness, we're just manipulating people, and they will know it.
Get to know them. Taking a position of a listener is vital in nurturing and stewarding relationships. Maybe it would be helpful if you had a mental list of questions to ask others that would help you get to know them and truly, deeply, listen to what they are really saying. Listening is how relationships are formed and sustained.
Make contact. Make a point to shake hands, grab a shoulder for encouragement, and maybe even hug (where appropriate of course). If your circle isn't that touchy-feely, then make high-fives part of the culture. We respond to personal touch, it reminds us someone cares, is thinking about us, and is encouraging. Touching the wounds of others amid the unbearable pressure to 'get the job done' is a strong sign of care and respect.
Serve their needs. A main reason we are in leadership is to make sure that the people on our teams are thoroughly equipped for the jobs and duties they have. Taking a position to listen and serve truly lets them know we care and want to help. Only in combination with our follow-through will it lead to transformation. Also, serve their "life needs" – not just their "workplace needs." Maybe someone needs personal coaching, financial coaching, a housekeeper or baby-sitter during a time of illness, etc. and you can provide it for them (somehow legally, fairly, and equitably within good company policy).
Walk with them through their own personal goals and transformation. If you've gone through the Excellent Cultures process, then you already know a big part of the buy-in is personal transformation that engages hearts not just minds. Just like it takes a village to raise a child, it takes a community to truly transform and change. Engage with others on their personal transformation journey and celebrate their wins with them. Be with them and when appropriate, encourage them in their challenging times. If the relationships with the people that you lead and value the most at work aren't deep enough for folks to feel comfortable sharing their own goals, then this is a sure sign that you haven't invested enough real time in steps 1-4.
Mentor them. The greatest relationship stewards always seek to help others reach far beyond their own potential. They don't need our speeches, they need our attention. They don't need our lectures, they need our assistance. Mentoring is modeling in relationship. It's getting dirty in the work of others in order to help equip them to be successful, not just for the company's goals but for the individual's personal goals.
Obviously, much of our paperwork and production is aimed at helping people. But too often there is little time or energy left for people after the exhausting efforts of accomplishing those tasks. Whether we like to admit it or not, paperwork, deadlines, and crowded calendars often preoccupy us and create a barrier between us and the opportunity for touching people's lives in a transforming way. As it's been said many times before…
PEOPLE WILL NEVER CARE HOW MUCH YOU KNOW UNTIL THEY KNOW HOW MUCH YOU CARE.
Let us not focus on the tasks, but the people. Let us not focus on the words, but the compassion and real care behind the words. Individuals can do great things, but unified teams change the world.
---
STUFF LEADERS HAVE SAID ABOUT RELATIONSHIP STEWARDING:
"My intention always has been to arrive at human contact without enforcing authority. A musician, after all, is not a military officer. What matters most is human contact. The great mystery of music making requires real friendship among those who work together. Every member of the orchestra knows I am with him and her in my heart."
– Carlo Maria Giulini, former conductor, Los Angeles Philharmonic, as quoted in Bennis and Nanus, Leaders
"The most important single ingredient in the formula of success is knowing how to get along with people."
— Theodore Roosevelt
"In real life, the most practical advice for leaders is not to treat pawns like pawns, nor princes like princes, but all persons like persons."
— James MacGregor Burns
"Accept the fact that we have to treat almost anybody as a volunteer…"
— Peter Drucker