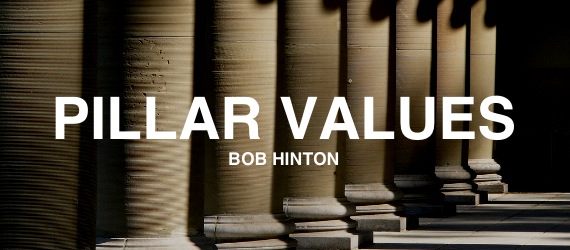 Developing a Culture of Ethics, Values & Employee Engagement Series:
We recently had the opportunity to sit down with Bob Hinton of Moss Adams.  A 20-year veteran of the 100-year-old Moss Adams a leader in assurance, tax, consulting, risk management, transaction, and wealth services.  Moss Adams has a staff of over 2,000 that includes more than 200 partners.  They focus on serving public, private, and not-for-profit enterprises and high net worth individuals across the nation through specialized industry and service teams.
THE MOSS ADAMS CULTURE – P.i.l.l.a.r.
Moss Adams has a strong culture focused on Passion for excellence in serving their clients, team members and the communities they practice in, by creating a team culture in the process.  One of their founding formations is the acronym PILLAR:
P- Passion for excellence
I- integrity
L- lifetime learning
L- leading by example
A- accountability
R- respect
The only letter they capitalize is the "P" for Passion. Bob filled us in on passion being the founding factor within their culture; a passion for all these values is what keeps them going.
"If there is not a driving passion for excellence, integrity, learning, leading by example, having accountability, and respecting customers and one another then we lose the point." – Bob Hinton
Their Pillar culture is part of the employee evaluation process within the organization; it is fastened as a principal to all decision-making, within employee relationships and operational business process. They spend a lot of time implementing PILLAR culture.
 "I find that the marketplace responds well to our Passion for our Pillar culture, while we work hard to understand our client's values and culture. It's the best way to maintain a long term relationship." – Bob Hinton
MOSS ADAMS EMPLOYEE ENGAGEMENT
Employee engagement is vital to the Moss Adams culture. We can see just by examining Mr. Hinton as the example, partner in the Moss Adams culture that is growing, reproducing, and lasting past 100 years. Bob gave us a clear path as to how employee engagement is one key to Moss Adams success.
Moss Adams reinforces Pillar culture through ongoing:
Communication
Mentoring
Coaching
Formal Consensus Building Meetings (twice a year)

Written Evaluations
Consensus discussion amongst 3-4 people creating honest feedback for individuals

Up-streams (once a year)

Anyone can anonymously write an evaluation on the people above him or her in leadership. Giving them feedback on communication style, adherence to the Moss Adams Pillar Values systems, and more.
Those can be received anonymously or through a consensus building process.
These things are such a part of the fabric of Moss Adams culture that they are expected and received without negativity, creating transparency and teamwork.
For over 35 years, Excellent Cultures has continued to help create similar cultures with this type of transparency and mutual respect.
Grabbing this idea and running with it is not the answer for organizations that have bad culture. Without the foundation of the Pillar values or something similar, transparent feedback could turn into tattletale sessions where grippers gain ground and erode culture even further. The values must be in place to uphold these great processes of engagement, transparency, and teamwork in order for them to be productive. You can't serve a five star meal on a dirty plate, the plate needs to first be cleaned for the five star meal to shine and have the presentation and flavor that it should.
"It's not just the values it's the people along the way that make the difference." – Bob Hinton
IMPLIMENTING CULTURE IN A STRONG BUSINESS MODEL
The organizations that often stay strong in these times also hold to cornerstones of fundamental business management. Those corner stones being: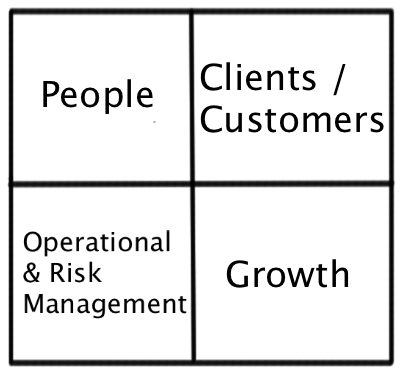 If you're trying to hire the best people, manage the best people, retain the best people, and you're trying to encourage and manage folks in that process, there's a tendency at times for some organizations to not challenge their people. Afraid to go to their key players and fill them in on the issues and challenge them to step up, letting them know their value, while asserting that their organization needs more out of them.
BUILDING STRONG RELATIONSHIPS BY DEALING WITH CONFLICT
Authentic relationships that we have with people are much more important than any kind of survey. The killer is unresolved conflict. Only authentic relationships can overcome this.
"Protect your time so that you're not distracted from taking the time to really connect with your people and reach into relationships to listen and serve in an authentic way." – Bob Hinton
"Within the context of our own character we must always ask ourselves, am I coachable?  Am I receptive to positive and negative feedback?  Am I willing to listen to a mentor?  We've got to stay coachable.  The minute we aren't coachable we lose ground as mentors." – Bob Hinton
HOW TO ESTABLISH & RESTORE A CULTURE OF ETHICS, VALUES, & EMPLOYEE ENGAGEMENT
Many reading this may truly want a culture change.  Perhaps you're in a position that you're ready to resign and move on from the toxic culture that you're in.  Perhaps you're a leader of a business culture and you want true change in your company, teams, and people.
We've heard many leaders over the years say, "I just need better people!"  I often disagree.  What you often need is a better culture that brings the best out of the people you already have.  A great culture will then nurture the greatness in people, which in turn will draw more great people.
Bob's advice:
Be authentic about it. You may not see the results right away. There is no secret sauce. It's about trial and error, not about chasing unattainable perfection.
Successful companies should evaluate what they're doing. Outside coaches provide the tools while you provide the heart. Too often corporations become unconsciously competent at what they do and forget the important things that work for the long haul.
Ask yourself these key questions: Am I coachable? Am I receptive to positive and negative feedback? Am I willing to listen to a mentor, even if that mentor is currently positioned under me? Always stay coachable! The change in any organization begins in you, the leadership.
There's a lot of people who want to mentor and a lot of people who don't want to mentor. Don't give up, keep looking for them, and keep nurturing them. You don't get this stuff out of a book. You get it from living it every day at home and at work. You get it from coaching and mentoring, and being coached and mentored.
"Creating value and opportunity in the marketplace always works.  Great companies embrace this reality."  – Bob Hinton

ABOUT OUR INTERVIEWEE:
ROBERT L. HINTON JR., CPA
MOSS ADAMS
Tacoma Office Managing Partner
Automotive and Dealer Services National Practice Leader
PROFESSIONAL EXPERIENCE
Bob has been with Moss Adams for over 20 years and has worked with large middle-market companies his entire career. He has significant experience working with clients on both tax and assurance engagements, as well as due diligence, operational consulting, strategic and wealth management assignments. In 1999 he became the firm's Dealer Services industry group leader. This practice is one of the largest retail automotive and commercial equipment dealership practices in the country. He is also the chairman of the Praxity dealer services group which represents five regional CPA firms serving over 2,000 dealerships nationally. In 2007 he also became the managing partner of the Tacoma office. Bob is also a member of the University of Washington Business Advisory Board in Tacoma and is active in a number of civic organizations.
Bob has also helped develop and implement a number of firm-wide consultative "products" designed to help clients identify ways to increase profitability and manage business risk. These products include "SCORE" which is an operational consulting and profitability tool and our "BOSS Evaluator" with is a succession planning tool for closely held businesses. He has also developed an "owner focused" strategic planning tool (called the four corner stone plan) and an executive accountability planning model.
He is one of 15 recipients of the firm's technical excellence award for consulting services and has collaborated on a number of articles and a nationally recognized management guide on financial management. For fun outside of the office, Bob is an avid Jazz Drummer.
PROFESSIONAL AFFILIATIONS AND CERTIFICATIONS
Washington Society of Certified Public Accountants
Washington State Automobile Dealers Association
National Chairman of Praxity Dealer Services group
University of Washington Business Advisory Board – Tacoma
EDUCATION
Bachelor of Arts, Business Administration – University of Puget Sound