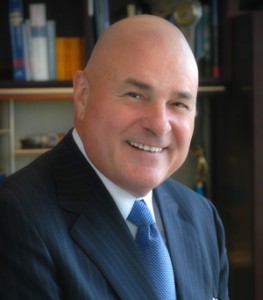 Charles R. Oglesby – Recently retired from his position as Executive Chairman of the Board of Asbury Automotive Group Inc. Asbury is a Fortune 500 Retail Automotive Consolidator. At the time of his retirement, Asbury was the 6th largest in the US owning and operating 81 Automobile Dealerships posting annual sales of $3.7 Billion. He served as Asbury President and Chief Executive Officer from May 2007 until February 2011. In February 2011, he retired from his position as Asbury President and Chief Executive Officer, and was appointed to serve as the Executive Chairman of the Board while transitioning his duties.
A SIT DOWN WITH CHARLES OGLESBY
Q: Charles, would you describe yourself as being more concentrated into the automobile industry or transportation industry?
A: I see myself, really, as being in the people business. We happen to sell cars or provide transportation but it's always about the customer or it's always about our employees. The thing that always attracted me to this industry is I love people and I love cars. And so the combination of those two things is for me what's so exciting about it. So I really view myself personally, and we're in — we are in the people business.
Q: What pointers would you present to this audience this morning to help those that are in the start-up phase or those that are involved in a business?
A: It's been all because of other people. I think it's the philosophy of creating a shared vision. Not only for yourself. You need to have a vision on where you want to go and have the ability, the courage and strength to overcome the obstacles. Because there will always be obstacles that are preventing you from getting where you think you want to go. And it's being flexible so that whenever these obstacles present themselves that you go over, under them, around them, or through them. And I think that mixed in for me it's always been about creating a culture.
Always when I would parachute into these organizations I knew where they were financially but I didn't know the people in the operation…I looked at the employees and as I was speaking to them, I did not know who the stars were. So again, treating all of them like stars allowed the people that were in whatever kind of order that the organization was in before I got there — you have these people that either spread bad news or a few leaders and usually the potential of an organization is much lower. I knew that if I was there, there was a reason I was there, the reason that I was hired and asked to be part of an organization is because it wasn't working right. So whenever I treated everyone as if they were the stars it's amazing at how many barriers went away and performance levels went up.
But everyone needed to know and wanted to know where are we going and what is the vision for this organization. And when that is shared throughout your organization, however ever small or large it is, then you remove all the barriers to performance and allow people do things they didn't even know they could do …If you're starting a business, other than getting a lot of cash, I would say that believing in yourself enough that it doesn't matter what obstacles that are in the way — you'll go over them, under them, around them, or through them. If it involves other people understanding, seeing the best that they have to give.
Q: What personal trait would you best describe has been the staying power — what talent do you think that Charles Oglesby has that contributed to that line of succession and success?
A: I think that I've been blessed with a lot of gifts of insight, a respect of people, an acknowledgement that it's not about me. That my role in life is more of an igniter for others and that the greater things that others do, I just get pulled right along with it. So as I looked at all of the things that I wanted to be a part of and that I was a part of, it was always about the people that were around me that I surrounded myself with. So I think that it was not being afraid of smart and strong people and always looking for someone that had more talent than I did and not allowing my ego to get out front so that everyone else has to be below me, you know that it was about me but helping others. But I think that's probably one of the key aspects that has helped me.
Q: I think most of us would salute you, Charles. I know everyone in our audience would salute you for your tremendous personal success and climb of the ladder at the corporate level. What would you say was the largest mistake you ever made and what was the take home that you learned from this major mistake?
A: Well, this room can't hold all the mistakes I've made. I mean it's — what I learned about mistakes it's not "The Mistake," it's to make more of them. And the reason that I say that is the more mistakes you make, the more you grow, the more you learn. The problem comes when you make the same mistake more than once that you don't learn from. That's the killer. So it's not about making mistakes. It's also how you think about the mistake. Whenever you recognize that you've made a bad choice or as we've termed it a "mistake" then you fix it and you go on. Because what you do then is you want to think about the things you want, not what you did wrong. You don't want to get that anymore, you want to get these things. So for me it's how I responded to the mistakes not necessarily the mistakes that I've made. Cause' I've – you know like all of us we've all made plenty of them.
Q: Charles, what do you see going forward as far as the competition that comes from the internet and from potentially other reorganization from other companies that are reorganizing under bankruptcy and trying to driving their costs down? How do you compete with that going forward?
A: Well, social media, social networking, the internet, we are embracing it because that is one of the portals that our customers want to hear from us from. They want to use this process. Now they still like the touch part. We can almost do a complete transaction online but they still want to take delivery of the vehicle at the dealership level. That aspect has not changed yet. So we are spending quite a bit of our resources on our IT and our development so that we are very competitive in that market. On companies that are reorganization and restructuring from bankruptcy that was almost us except the bankruptcy part is gone. We were fortunate that that didn't happen to us. But we became one of those companies that restructures and reorganized and we took excess of 100 million dollars in cost out of our business last year and restructured and did a number of things while we were doing that. So there were a lot of balls in the air. I think that any organization that does not do that today won't be able to compete in the future. You've got to be able to take all the cost out that you can, unfortunately even the human capital side. The human side — all productivity measurements that you look at — anyone that chooses or can't produce at the same level of your high performance people, you can't keep them. They become a drag on the organization and they lower everyone else's performance level. So I think in all aspects in everything you measure you've got to look at performance side of it. and again reorganizing – competition doesn't bother me. It makes me better. So I hope that they're doing the same thing we are because I want to continue to grow and get better too.
Want to build an excellent culture in your business?  Tell us about your business and the vision you have for your culture.  Ask the experts.