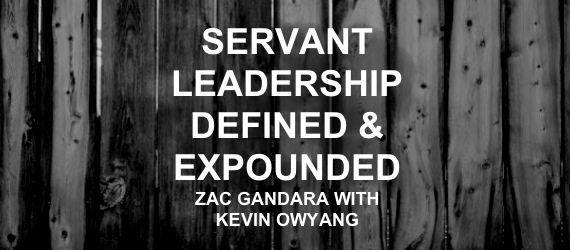 Servant leadership is a hot topic among leadership circles. But what is it really? What does it produce? Why be a servant?
The traditional definition: Servant leadership is both a leadership philosophy and set of leadership practices. Traditional leadership generally involves the accumulation and exercise of power by one at the "top of the pyramid." By comparison, the servant-leader shares power, puts the needs of others first and helps people develop and perform as highly as possible.
Servant leadership begins with the reality that leadership is a sacrificial position. When we carry leadership roles we lose certain freedoms. We must also lose certain opinions, or at least keep those opinions from coming out of our mouths and actions towards those we lead, for the greater good. Many think that as leaders we give up personal fulfillment, for the greater good. This may seem true at the beginning, but soon you recognize the greater fulfillment that comes from seeing others succeed. In essence, when you're a leader you give up your personal rights for the sake of those you lead. You value others as you value yourself, without attributing your position as a higher status but as an equal status lifting others to greater heights.
The phrase "servant leadership" was coined by Robert K. Greenleaf in The Servant as Leader, an essay that he first published in 1970. In that essay, Greenleaf said:
"The servant-leader is servant first… It begins with the natural feeling that one wants to serve, to serve first. Then conscious choice brings one to aspire to lead. That person is sharply different from one who is leader first, perhaps because of the need to assuage an unusual power drive or to acquire material possessions…The leader-first and the servant-first are two extreme types. Between them there are shadings and blends that are part of the infinite variety of human nature." "The difference manifests itself in the care taken by the servant-first to make sure that other people's highest priority needs are being served. The best test, and difficult to administer, is: Do those served grow as persons? Do they, while being served, become healthier, wiser, freer, more autonomous, more likely themselves to become servants? And, what is the effect on the least privileged in society? Will they benefit or at least not be further deprived?"
Our friend entrepreneur Kevin Owyang talks to Dennis Bakke, about his new book, The Decision Maker, and shares his interviews with other experts about how bringing social responsibility into a startup impacts a business: Social Responsibility and a 'Servant' Boss Can Spark a Startup
Kevin Owyang is founder of B Jibe, a not-for-profit project of Avolusis, LLC where Owyang is chief executive officer.