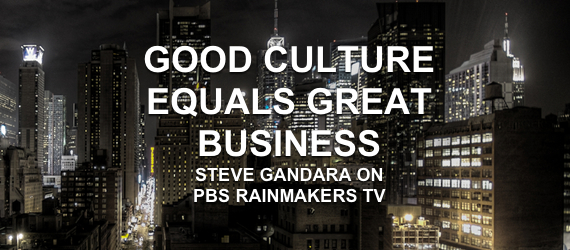 "Culture eats strategy for breakfast" is the mantra of Excellent Cultures. Steve Gandara explains how companies that pay close attention to the culture of their operations do much better for all stakeholders. Rainmakers Tv on PBS.


WHAT IS RAINMAKERS TV?
A rainmaker is a person or an organization who has special qualities to make something happen. A rainmaker is one who donates funds. A rainmaker is also a group that works together to help others overcome a hardship. A rainmaker is someone at the bottom of the economic pyramid who has the inner drive to make change become a reality.
Rainmakers is in development on one of the most exciting documentary series ever produced in our region. Their distribution partner is KBTC, a public broadcasting station affiliate serving markets in the Northwest. Rainmakers TV is an original documentary television series that showcases both the heroic efforts made by impoverished people around the world who every day strive to lift themselves out of dire circumstances, and those philanthropic individuals and organizations that reach out and provide strategic support. Focused not on aid – but on comprehensive strategies that have sustainable outcomes, such as education, health, rule of law, engaging governments, empowering women and girls, clean water resources and micro-credit – Rainmakers tells stories that inspire global transformation.
Check Out Rainmakers.TV