If you are a decision maker in private sector business, local, state or federal government and you are either implementing or exploring Lean Thinking, then you should be commended. Lean, based on the Toyota Production System, has become one of the 20th century's greatest innovations. Lean has changed the face of manufacturing worldwide and is now being embraced by service, healthcare and government organizations globally. If your organization is not involved with Lean yet, chances are that it will become so shortly.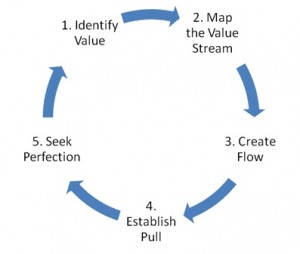 If you are becoming active in Lean, you are probably hearing about concepts like: value streams, flow, end-user value, waste, Kaizen, continuous improvement, PDCA, visible systems, and time-based metrics. You may also be trying to remember strange words like Takt, Jidoka, Gemba, Muda, Andon, and Kaizen. These are great concepts and will be useful to your organization as it takes concerted steps to become Lean.
Lean is commonly defined as a management philosophy that involves everyone throughout the organization in the elimination of all forms of waste, resulting in dramatically increased flow of value to the end-user. The definition of Lean emphasizes collective improvement action, but collective action alone will not be sufficient to sustain a Lean transformation.
Lean, like any transformation approach, operates concurrently in four spheres:
Awareness
Collective Action
Leadership
Culture
The vast majority of Lean programs focus almost entirely on Awareness and Collective Action. Some touch lightly on Leadership, but virtually none appropriately attend to Culture. Many designers of Lean programs simply assume that Lean techniques themselves will improve culture. After mentioning the cultural benefits of Lean (e.g. more participation), they then quickly move on to talk about "change management" (i.e. how to overpower the existing culture). Yet, we know, based on over 40 years experience at Toyota and beyond, that a strong and congruent culture is the single most important factor in the sustainability of Lean.
A friend recently returned from a visit to Toyota in Japan to study Lean. This was his second trip to Toyota because he was frustrated with his progress in Lean in his company (where he is the president). Toward the end of his visit, he asked his Toyota guide, "Is there one overriding factor that determines one's success with Lean?" Somewhat to his surprise, his guide smiled and answered, "Yes, the number one factor is always culture. That's what everyone misses." I recall his excitement when he related this story to me and added, "These Lean tools and techniques aren't worth a damn without a strong supporting culture." Today his company is a Lean showcase that conducts well-attended tours every Friday.
To Be Continued…
Randall Benson & Steve Gandara
Want to build an excellent culture in your business?  Tell us about your business and the vision you have for your culture.  Ask the experts.