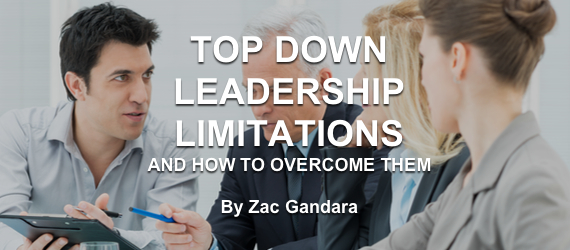 The top-down approach to leadership is based on post industrial revolution and pre-Vietnam era military or Captain of Industry models of barking orders to underlings. It can go something like this: "I'm in charge here, and the sooner you figure that out the better!" While this perhaps may be an effective form of leadership in the military, today's elite military leaders will tell you that it has it's negative side effects. In consulting a former Senior Operations Manager from the US Army for this article I was enlightened to hear his input. Matthew Skidmore informed us that the US Military has indeed turned away from the top down style of leadership in all of their special operations teams. They empower from the bottom up simply because it is far more effective.
The most disturbing part of a top down leadership style in the marketplace is that it typically erodes to taking on a very low view of humanity. Everyone is meant to feel below the leader who's doing the barking of orders. It often assumes that individuals cannot think for themselves.
The Downfalls of Top-Down Leadership
Cultivates a low view of humanity
Crushes Creativity
Creates "yes" men / women or at best automaton style workers
High turnover
Low Performance Fear Based Cultures
People who only produce enough to get by and never give their best
We could continue this list for days (if you'd like to add to it, use the comment section on this blog page.) We have all served under top-down leaders at some point in our lives, or if you're like myself, you used to be one and still wrestle with reverting back to it. The top-down attitude is defined by people who believe that they're smarter than everyone else and that everyone should serve them; as opposed to believing they should be serving others within the group.
When I find myself slipping back into top-down ways I remember that our organization can only be its best if every person is at their best. I become the greatest asset to my company when I become its greatest servant. I then must begin to look at the needs of my tam and begin asking questions.
What does each team member need to operate and produce at his or her highest level?
How can I equip them to be their best?
What obstacles, fears, or limitations are they running into that I can tear down, equip, or teach them to overcome?
How can I model and apprentice them?
How can we create a Win-Win Culture where everyone gives their best instead of a Win-Lose Culture where people only do enough to get by?
An excellent leader must be willing to get down and dirty with their troops in the implementation of objectives. Excellent leadership is about caring for others more than for ourselves. It is about compassion, diving into the lives of each team member and knowing what they're going through, what challenges they are having, and mentoring, equipping, or teaching them through it. It enriches everyone, not just those at the top. Excellent leadership may require us to sit and weep with those who weep within our organizations. It requires getting down and dirty when hard work has to be done. There is nothing in my organization that anyone does that I should not be willing to do myself if it promotes the good of us all.
This style of leadership produces people who will give their all to follow the leader they have. One of the greatest leader and mentors I ever met was noted for living by the motto of "They don't care how much you know until they know how much you care." How ironic is it that this leader happened to have served most of his career as an officer in the US Army and retired as a Major General.
How ironic is it that this Captain of Industry felt likewise:
Take away my people but leave my factories and soon grass will grow on the factory floor. Take away my factories but leave my people and soon we will have a new and better factory.
Andrew Carnegie
People are the greatest piece of our business puzzle, if we treat them like cogs, they will cease to be people.