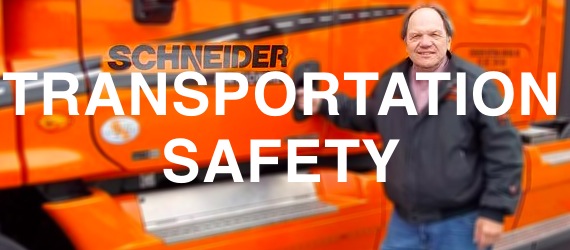 By Dale Hinz
The transportation industry like many is awash with data. GPS technologies and detailed reports track everything. The key to success and effective business communication is balancing the abundant historical metrics and with a firm focus on future desired outcomes. Inspiring positive behaviors from all levels – especially at the driver level, requires reinforcing the behaviors we want versus what we don't want. Leadership styles effective in the future will fully grasp this.
Too often reports emphasize negative results: 1) accidents; 2) late deliveries; 3) customer complaints; etc. All valid data points but if not balanced with positives the negative focus drives negative outcomes. Cognitive science holds we do what we think about. "So a Man thinketh" is wisdom from the Psalms that remains true today.
Champion golfers see past hazards (water, bunkers) and visualize their shot safely on the green. Whereas average golfers face the hazards and see past bad shots that blew up their score. Champions in all sports firmly visualize positive outcomes. But as business leaders, we too often focus on the negative metrics and then wonder why we're stuck. Why do our teams make the same mistakes even though numerous emails point out the mistakes and countless meetings call out the problems.
Focus on negative actions and negative results is self-fulfilling. Don Osterberg, SVP of Safety, Driver Training and Security at Schneider National Trucking, balanced to the negative reports by creating a positive Affirmation for drivers to focus on and commit to. Effective employee engagement requires commitment. Don, describes changing to a more positive and professional image was a "watershed event."  Click here for two minutes of Don's presentation to the DOT's Distracted Driving Summit.
Don stated it starts with a belief that shapes attitudes that encourages correct behaviors that result in improved outcomes. A positive balance was a watershed event that changed their trajectory. Note the word "balance" as the suggestion is not to jettison analytics of metrics (positive or negative) but to also put forth a strong positive vision. A vision so clear drivers can see it and drive positive outcomes because of it. The balance becomes a set of powerful leadership styles.
Safety is a dominant cost factor in transportation. Many firms invest significantly in safety improvement programs but not enough balance metrics with a positive vision. Don's investment in creating, training and then seeking commitment to their positive Affirmation statement (visualizing safe behaviors) has paid off very nicely in improved results and increased employee engagement.
Your business can do the same but it will take collaboration and persistence to create that balance. Look beyond the black and white printed reports and look at your team's beliefs – the beliefs, attitudes and behaviors may need some alignment if you want a different future.  Want to build a safety culture like Schneider National?  Tell us about your culture.  Ask the experts.