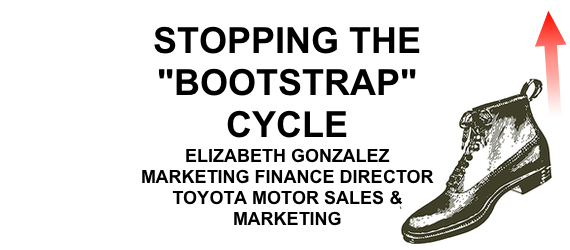 What if it isn't about exerting more effort, trying harder, and muscling through? Elizabeth Gonzalez gives great transparency and truth to bring growth and freedom to leaders in this episode.
Podcast: Play in new window | Download
Elizabeth Gonzalez | National Marketing Finance & Administration Manager
Elizabeth Gonzalez considers herself fortunate. Her greatest joy is centered in the fact that she is the mother of two amazing teenagers, Jared and Sophia, who fill her life with interesting conversations, a myriad of activities and a bit of hijinks. Beyond her role as a mom, she enjoys a large, supportive family and many good friends. These relationships form the foundation for everything else she does.
After earning her BS Accounting at the University of Southern California, she accepted a position with PriceWaterhouseCoopers in downtown Los Angeles. While there she enjoyed having clients in the engineering, entertainment and banking industries. After a five-year stint in public accounting and earning her CPA, she accepted a position with Toyota Motor Sales, USA ("TMS"). TMS is the sales, marketing and distribution arm in the US.
Since joining Toyota, Elizabeth has had opportunities to delve into gross profit analysis, financial statement consolidations and reporting, SOX program development, systems implementations, and internal audit consulting. Currently, she is responsible for the finance aspect of the marketing function and is helping to head up a culture renaissance. It's been a great twenty- year run and she's looking forward to what's coming next.