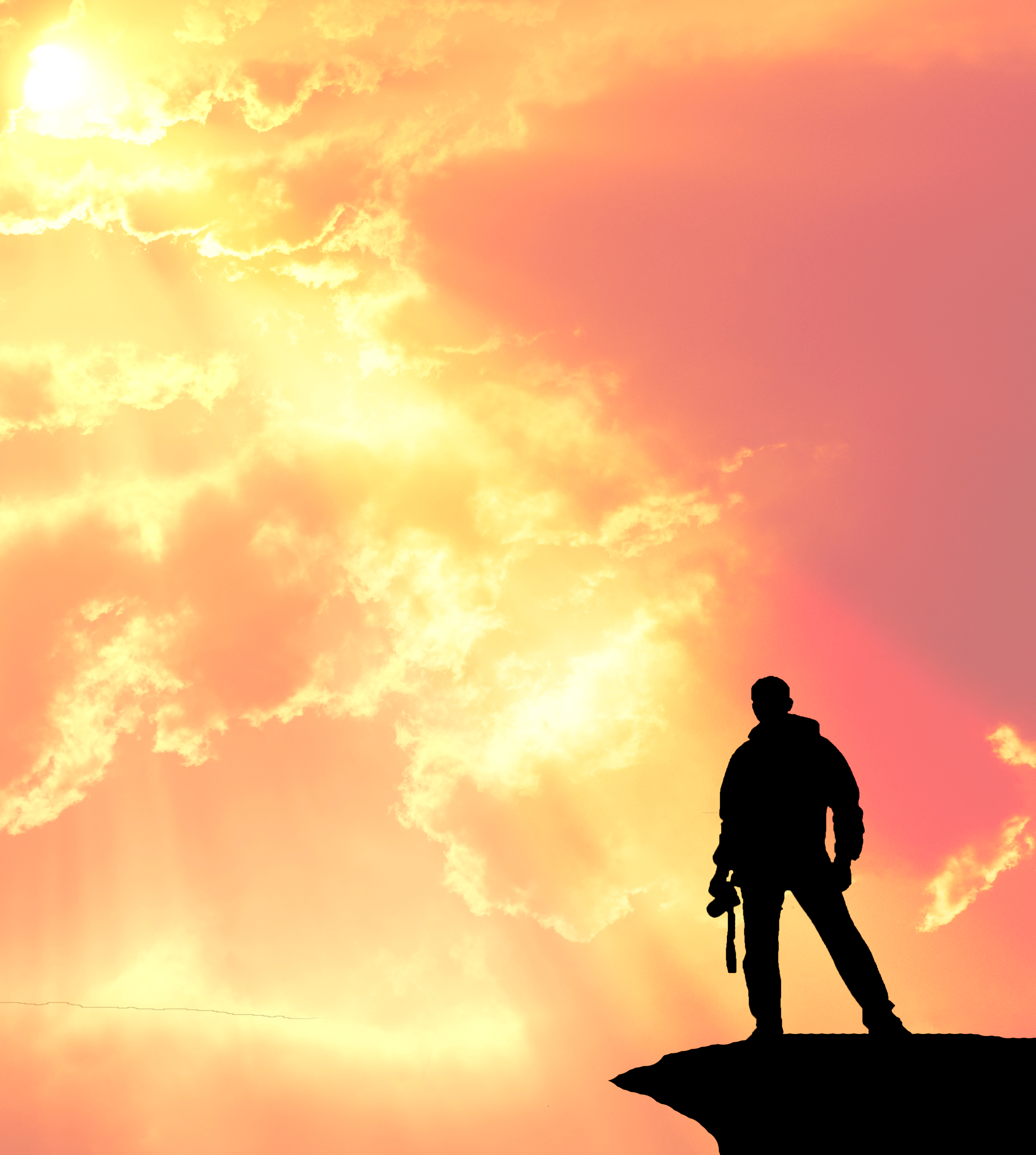 Written by Steve Gandara
WHAT WE HAVE LEARNED SO FAR FROM PREVIOUS ARTICLES 
Leaders are not just born, they are made.
Anyone who wants to learn how to lead well can learn.
Credibility is job one for excellent leaders.
Credibility is developable.
Great leaders learn from the mistakes of others, not just their own.
Great leaders have sharp minds and sensitive hearts.
Empathy trumps sympathy every time.
FORGET THE NEW NORMAL
Those of you who are graduates of our Achieving Excellent Culture Workshop are familiar with the field of psycholinguistics.   Psycholinguistics is the study of how our psyche responds to words and languages. An example of psycholinguistics is a study of how certain words represent traumatic events for some people and memories of traumatic events produce nothing but more trauma and more traumatic events as they move toward their dominant thought patterns.  The current crisis has been a 100-year traumatic event that everyone has been forced to deal with.  While dealing with overcoming a traumatic event is one thing, keeping our focus on it is yet another.  People who focus on traumatic events create more trauma in their lives internally and externally because as human beings we unconsciously move toward that which is uppermost in our minds.  Just as the golfer who doesn't want to hit their ball in the water always hits it in the water when they focus on what they don't want, so do those who focus on past trauma continuously recreate more trauma. While unintentional, it is a critical factor in getting everyone back to full performance and beyond in this unprecedented season of dealing with crises.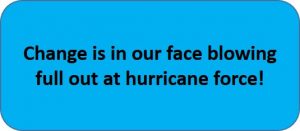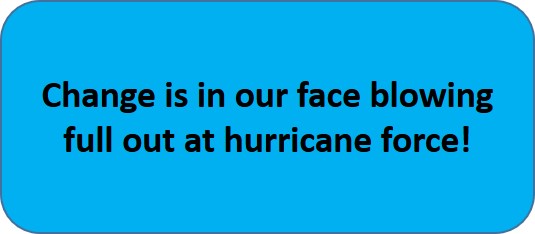 This morning I spoke with two well informed CEOs who clued me in on what's taking place on the inside of some major corporate entities in the retail world.  Bankruptcies, massive store closings, well known, established, top brands taking out loans on inventory sitting in their stores while no one shops just to survive.  On the other side of the fence we have Amazon, Walmart Online, Costco and other early adapters booming while malls are closed, and others struggle and wonder if many will ever want shop on foot again. Change is not in the wind.  Change is in our face blowing full out at hurricane force!  Nothing will ever be the same again!  What side of this fence are you on?  What side is your team on?
This week I received and insightful memo from Kevin Dull.  Kevin is a Senior VP and Chief Human Potential Officer of a $3 Billion+ healthcare organization that employs 18,000 people.  Kevin and his 18,000 team members have banned the word "normal" from their vocabulary and conversations whether it's "new" or not.   Kevin's perspective, which I wholeheartedly agree with, is that because people are seeking safety over everything else right now, the word "normal" focuses them on the past and the past is gone never to return again except for the memory of the trauma.   As a result, they have chosen to use the phrase "New Realities" instead because it points to the future stimulating new creativity, rather than the past.
How in the world does this relate to leadership?  It relates big time!  Every time you use the phrase "return to normal" or "new normal," or allow someone on your team to drop it into their everyday conversation, just the word "normal" triggers internal memories of past trauma.  The more we focus on trauma whether it is past, present, or future, the more tense, stressed out, fearful, depressed, emotionally and creatively paralyzed we become.
A well-known national publication recently quoted a Kaiser Family Foundation Poll saying "Nearly half of Americans report the coronavirus crisis is harming their mental health. A federal emergency hotline for people in emotional distress registered a more than 1,000 percent increase in April compared with the same time last year. Last month, roughly 20,000 people texted that hotline, run by the Substance Abuse and Mental Health Services Administration."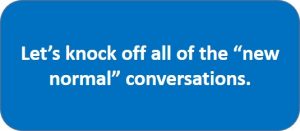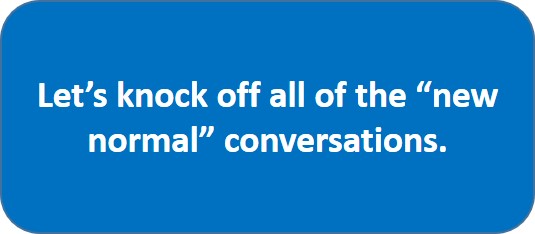 One of my CEO friends recently shared how his wife was experiencing undue stress, anxiety, and fear over the whole Covid 19 conundrum.  When she decided to stop watching the news and other crisis-based content, the stress, fear, and anxiety left, and she had a wonderful peaceful week.  Kevin put it like this, "a boat in the harbor is safe, until its bottom rots out."   I'm with Kevin.  Let's knock off all of the "new normal" conversations and lead our teams going full out to create our "new reality."  The result, those who move on first are the first to move on.  Where are you?  Where is your team?  How do you see yourself?  How does your team see themselves? Waiting for things to get back to normal?  Talking about a new normal?  Safe in the boat, that is safe in the harbor for now until the bottom rots out and everyone drowns?  Of course, be wise and be safe, but let's move on!  NO MORE NEW NORMALS!
LEADING IN THE EVER-EVOLVING NEW REALITY
Recently another good friend and tech CEO who grew up in the US Air Force before he got into commercial tech reminded me of the Air Force definition of leadership. "The art of motivating people toward a common goal."  Notice that leadership is defined as an art rather than a skill.  Yet notice the Merriam-Webster's first definition of art is "skill acquired by experience, study, or observation."
Most of us have skill and acquired our leadership ability by experience, some study and of course observation.  Yet, how does what we have been experiencing, studying, and observing relate to the new realities of today's post Covid-19 evolving era?  If you are like me, your experience, study and observation is all based on the past and has extraordinarily little to do with the new realities that we are facing today.  What should we be observing and studying to build new experiences for our team and organizations in the post Covid-19 future ahead of us?  How about the art of leadership in a post Covid-19 New Reality World that's changing every single hour?
Another longtime friend, founder, and CEO of a $100+ million business that has never had a single losing month in 50 years sent me a very short YouTube video on post Covid-19 leadership the other day that woke me up big time.  I did not realize that it was all about post Covid-19 leadership until I had watched it several times.  It was simply called THE WINDOW WASHER.
More has never been said about the art of leadership in 2 minutes and 16 seconds.  Observe how the leader who was dangling from a thin rope high up on a skyscraper thought his mission was washing windows until he discovered that his real mission was bringing joy to five hospitalized cancer patient children. Observe how he quickly changed his mission from beautiful crystal-clear glass to transforming 5 beautiful suffering children into a joy filled team bubbling with laughter.
Observe how he creatively used the tools of window washing along with his mobile phone as a mirror to artfully craft a tapestry of joy through the hospital glass window while dangling high above the city street below.  You will of course first notice the children and the joy that their new leader brought about in their lives. Yet, look deeper.
Watch the facial expressions on the leader's face as he creatively crafts design after design challenging himself to impact the children.  Watch how they respond to his facial expressions as he experiences the joy of his own creative leadership and its impact on the children. Notice how infectious the impact of his leadership is not only on the children, but on himself.  Notice how each time he empties himself of his best creative idea to impact the children, somehow another new one rises from within him.  And then, another and another, all in only 2 minutes and 16 seconds.
When was the last time you emptied yourself of your best creative idea designed to make a positive impact on the team that you lead?  How about on your loved ones?  One would wonder how much time he lost on his window washing task by pausing to alter his mission focus from cleaning windows to inspiring and igniting a team of joy filled cancer patient children.
My guess is that his investment paid off big time when the joy he experienced by impacting the children was infused into finishing the rest of the windows on his seemingly monotonous task.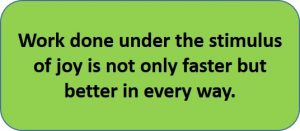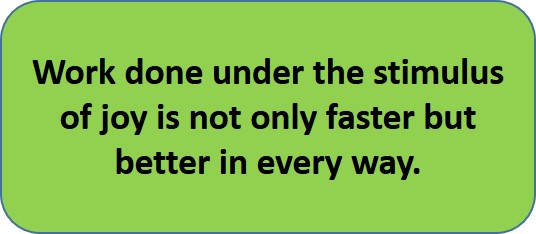 In The Influence of Joy, a Google e-book By George Van Ness Dearborn, the author postulates that "work done under the stimulus of joy is not only faster but better in every way." How much time do you think he saved by finishing his task filled with joy and the affirmation of positively impacting the lives of these suffering kids? Minutes?  Hours? Days?
Lately our executive coaching practice has encountered several high performing, yet very stuck overachieving leaders. These folks remind me of myself back in the days when I was addicted to achievement as well.  My wife would tell you that "back in the days" was yesterday or at most last week, but she's really great at over-exaggerating to make a point to get my attention.
How is it that when we are so focused on the goal or task at hand, we become totally blind to the people around us and their states of mind.  How is it that we can be so foolish when they are, in fact, the ones we depend upon to get the task accomplished?  How is it that our mantra has become "get it done fast" instead of "how do you guys think we can do this better and faster?"  How is it that many of us have become so good at making shoes for others when our own team or loved ones still have holes in their own soles?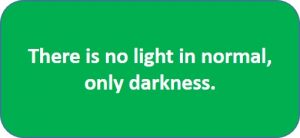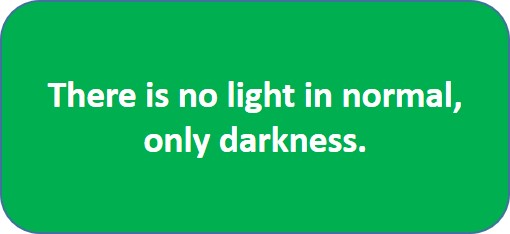 Perhaps our first leadership awareness in this new era is one of observation.  Observing the joy level in our teams or families can and will yield amazing fruit if you stay the course.  There is no light where there is no joy. Only darkness. There is no light in normal, only darkness. Perhaps our art of leadership priority for this season is inspiring joy in those we lead.  Joy that infects and effects the outcome of their unity, their alignment and their performance as well as our customers and clients.  Joy that ignites the light.  Perhaps?
THE SECOND MOST ESSENTIAL CREDENTIAL OF AN EXCELLENT LEADER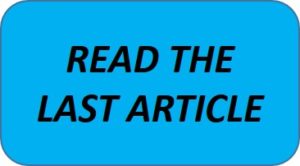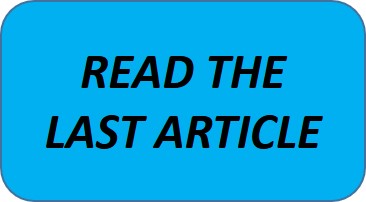 In our last article we defined great leaders as those who learned from the mistakes of others and not just their own mistakes.  Also, as those who others were inspired to follow.  We identified that credibility is a primary credential of an excellent leader.  We explored how credibility is acquired, earned and learned.  One of the primary ways that credibility is developed or earned is by competency.  There is nothing inspiring about an incompetent leader.  In fact, the only way that incompetency can be inspiring at all is if it is owned and admitted with authenticity.
So, incompetency + authenticity = inspiration?  Yes, but only temporarily.  Many new leaders have earned the respect and admiration of their teams by showing up and admitting how incompetent they are compared to the seasoned veteran experts they have been called to lead.  This works every time if it's authentic and not a slick sales pitch to manipulate willing followers when there are none.  What's the difference?  Authenticity and permanency.  Authentic incompetency that's owned, openly confessed and admitted will earn you willing, inspired followers every time for a while.  Yet, you better get busy on becoming competent by learning from the experts as fast as you can.  The only thing easier for a seasoned veteran to spot than a rookie leader is a phony rookie leader.
Years ago, I was privileged to meet and get to know a very inspiring leader.  US Army Major General Bernard Loeffke was affectionately referred to by his friends as Burn.  Burn, the consummate warrior and leader of consummate warriors fought and was wounded in the Vietnam War.  He later served as the commanding general of U.S. Army South. He was awarded four Silver Stars, five Bronze Stars, and a Purple Heart.  He graduated from the United States Military Academy in 1957, earned a B.S. in Engineering, an M.A. in Russian Language and Soviet Area Studies, and a Ph.D. in International Relations. He taught Russian at the U.S. Military Academy and U.S. Foreign Policy at Georgetown University and was the first American general to serve in the U.S. embassy in Beijing, as defense attaché.  Loeffke was an Army Ranger and a pilot. He commanded Special Forces, an Infantry battalion, and was a paratroop advisor to Vietnamese units during the Vietnam War.
With such a diverse and impressive military resume loaded with superior knowledge and experience, one would think he was the inspiration for the first, the second, the third, the fourth and the last Rambo. Yet, I will never forget when he told me that when he retired, he wanted to heal people rather than kill them.  He went on to become a physician assistant in 1997 and participated in medical missions in war-torn or impoverished areas such as Bosnia, Haiti, Kenya, Iraq, Niger, Darfur and the Amazon jungles.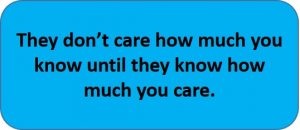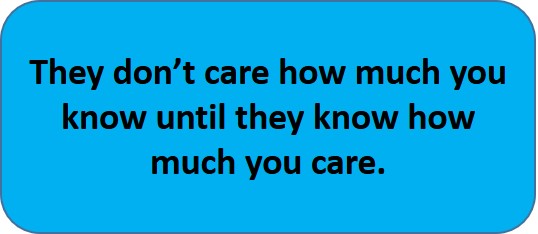 Any leader who ever served under Major General Loeffke knew deep in their soul his profound motto of excellent leadership, "They don't care how much you know until they know how much you care."  Such an amazing historical leader who built his credibility first on caring and secondly on competency.  So many have tried the reverse and gotten so stuck trying to know more than everyone else that they never got around to the care and as a result had much difficulty inspiring followers.  Yes, credibility is built on competency, authenticity, and most of all a leadership quality that only amazing leaders like Gen Loeffke know and personify, Service-Over-Self-Humility.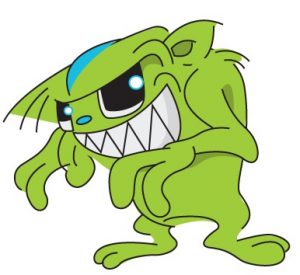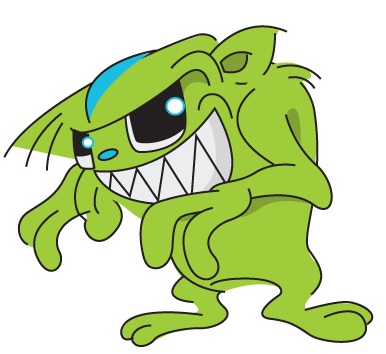 If you've attended an Achieving Excellent Cultures Workshop, you're extremely familiar with Service-Over-Self leadership as well as the antithesis of it, the Culture Monster who devours your best strategies for breakfast.  The Culture Monster thrives on a redundant thought pattern that's his driving force, "Me, Me, Me, What's in it for Me!"  Anyone who has ever been part of a team, attended middle school or works in either Corporate America or small business, knows that this guy is the dark side of human nature.  He's who we all are when we're at our worst.  He is the leader who drains the spirit out of people's souls and sucks the light out of every conversation and creative strategy when he or she has a rough day. The leader who get so stressed out at work that yelling at the kids, the dog and the spouse become their own new normal.  But worst of all, he is you and me when we're having a bad day or a weak moment.  And, unfortunately, he's a little part of all of us that needs to be controlled, managed and eliminated if leading the light in this darkness is what we desire.
Those of you who are graduates of one of our Achieving Excellent Cultures Workshops know how to deal with the Culture Monster.  You just need to spruce up your skills. For those of you who haven't and want to learn, as our contribution to Spreading the Light, Excellent Cultures will gift to you at no cost, our 10 week twice-a-day Achieving Excellent Cultures Daily Email and Commuter Podcast Series on us.
There is a difference between false humility and service-over-self-humility.  In its simplest form false humility is self-based and has the Monster's mantra at its core.  "What's in it for me? What can I get out of this by looking good to everyone else? Me, Me, Me.  It's all about Me."  Conversely, a culture of Service-Over-Self is infused with every team member focused profoundly on how they can serve their fellow teammates.  As a result, no one needs to be concerned about the me, me, me factor because the teammate on their right and on their left is so concerned that everyone gets covered.
This profound cultural mindset is glaringly apparent in championship sports teams. It is easily discerned in the post-game interviews when genuine superstars have no trouble avoiding the reporter's attempt to inflate their egos by focusing the interview on their success rather than the success of the team.  They smoothly and graciously accept (without self-deprecating or deflecting) the reporter's acknowledgement of their excellence while easily transitioning the credit for the success of the game to the support of their teammates.  Thus, the Culture Monster is squashed.
When this level of true Service-Over-Self Humility is combined with authenticity and competency, awe inspiring credibility becomes apparent.  A repetition of these beliefs builds an internal level of character that radiates confidence and of course most everyone is moved to follow leaders who are credibly competent, authentic, radiate genuine care for the people they lead and are confident about it.
CAN YOU SELL YOUR POINT OF VIEW?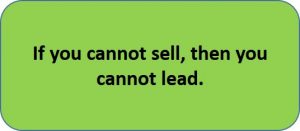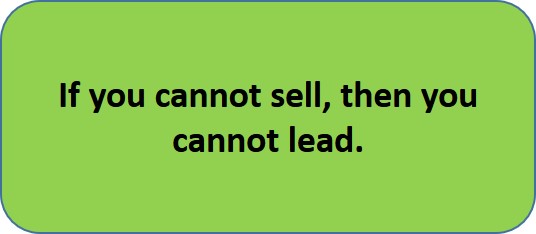 The last quality of a leader who Leads the Light in This Darkness is persuasiveness.  SELL?  In today's culture, the word SELL has become a stigma that ignites feelings of mistrust, selfish ambition and greed.  When we hear the word, our mind immediately conjures up the image of carnival hucksters, slick politicians, dishonest lawyers and used car salesmen. Worst of all, is the image of the late night infomercial pitch artist who relentlessly pounds away at our consciousness until we either call their 800 number, visit their website or change the channel out of desperation just to restore our internal peace.  Yet, if you cannot sell, then you cannot lead.  Just so we don't get stuck on the sales stigma, let's use the word persuade or persuading instead of sell or selling.
Taking our earlier example of General Burn Loeffke.  Why, he was not a salesperson, he was a decorated hero and an inspirational leader of other decorated heroes.  Yet anyone who ever spent more than 15 minutes listening to Burn became so sold on his motto "They don't care how much you know until they know how much you care," that they never forgot it.  Not only did they never forget it, most of them did their full out best to try to live it.  He sold us!  We were fully persuaded by him!
Speaking of great military leaders, the other day my wife was digging through several boxes of old photos organizing them and found an old photo of me and General Colin Powell.  You know, I had totally forgotten that I ever met him.  Yet, as I struggle to remember, I think I attended an event where I heard him speak for nearly two hours on some fabulous inspirational leadership stuff.  Then, I got my picture taken with him and proceeded to totally forget about it all.
I had to google what he was famous for talking about and still struggled to remember what it was.  Thanks to Google, I got it.  Colin Powell's 13 Rules of Leadership. Uh… "Get mad and then get over it…" Uh… Uh… Uh?  He was much more famous then Burn Loeffke, probably gave a hundred times more speeches.  He was actually the US Secretary of State too.  But he didn't sell me even though I got my picture taken with him.  Why not?  Why Burn and not Colin?  Was it because we were all Army guys in the Vietnam era, and my General seemed more like Burn than Colin?  Because Colin seemed more aloof and Burn did not?  Burn appeared to be humbler than Colin?  Maybe?
Nope.  It was because Burn only had one rule and Colin had thirteen.  Also, because Burn so obviously and profoundly radiated personally living his one rule of "They don't care how much you know until they know how much you care" that it penetrated not just my memory but my soul,.  Colin was extremely successful and very inspirational, but he didn't sell me while Burn did.  I'm not certain but I think I also remember hearing that Burn was Colin Powell's mentor.  I will never forget him or his motto.  What can we learn about LEADING THE LIGHT IN THIS DARKNESS from this?
First, the best way to become extremely persuasive is to know deep within your soul that whatever you are selling is absolutely the best thing possible for whoever you are selling it to.  Because "they won't care how much you know until they know how much you care."  Also, when your motivation is fully service-over-self and not me, me, me, people can feel your care and your authenticity and it is magnetic.
Second, forget about thirteen rules, four rules or five rules. Remember Curly from the comedy City Slickers and have just "One Thing." When you have only one thing rather than a dozen, you will automatically pick the most significant and most important and it will radiate.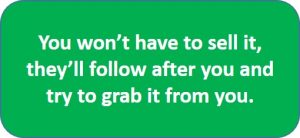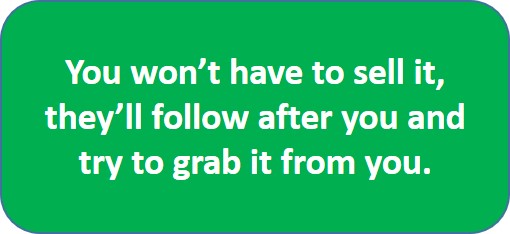 Third, follow Burn's example of doing your full out best to not just remember and preach your "One Thing" but live it.  Challenge those who know you and care about you to challenge you to live your one thing or shut up about it.  When you do people will feel it and you won't have to sell it, they'll follow after you and try to grab it from you.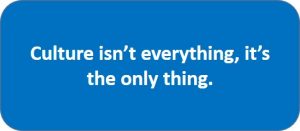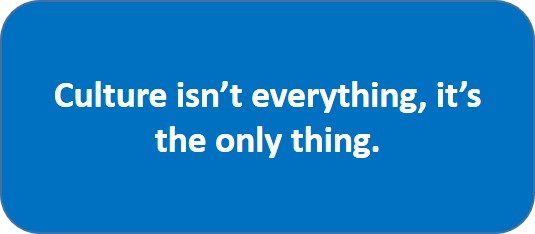 Way back when Costco was just blossoming into a global entity, I had the opportunity to meet and serve Costco's original Co-Founder and CEO, Jim Senegal.  While we were in the process of designing a training program to spread Costco's Corporate Culture and Code of Ethics globally for Jim, I got to interview him and hear his philosophy about their corporate culture.  I'll never forget the moment when he took his cigar out of his mouth, looked over at me and said in his sincere, gruff, highly convincing voice, "Steve, culture isn't everything, it's the only thing." Then he shut up a stared deeply at me silently until he knew for certain that his words had penetrated my soul.  Did he believe it? He did, without a shadow of a doubt.  Did he live it?  Did he motivate people toward a common goal?  Check out Costco's historic stock performance on Wall Street.  Was I persuaded?  By now you do not even need to ask because you already know the answer.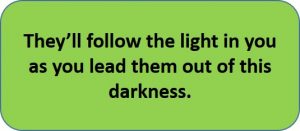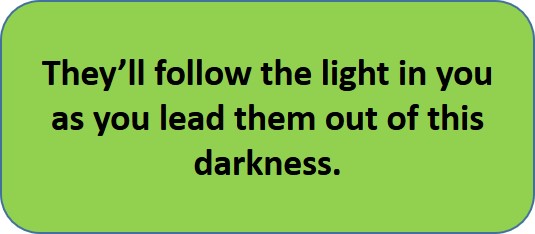 Lastly, when you have mastered the first three, you can be relentlessly persistent, and no one will avoid you or run from you.  Because people just naturally know deep in their own souls that you're fully in it for them, for their best interest and they'll perk up.  They will sense that you're truly pushing for their success above your own.  They'll not only tolerate your relentless persistence; they'll respect you and THEY'LL FOLLOW THE LIGHT IN YOU AS YOU LEAD THEM OUT OF THIS DARKNESS
We will continue to explore your next steps in LEADING THE LIGHT IN THIS DARKNESS in upcoming articles.  But, for now you can get a head start by taking advantage of our gift to you:  Our entire 10 Week, twice daily Achieving Excellent Cultures Podcast Series

PASS IT ON
As I've said before, I am certainly no expert, just an intentional observer who cares about you, your business, your team, your family and most of all, your future.  I might be wrong or even worse than that, "Controversial."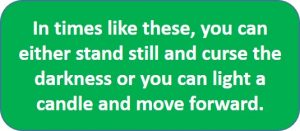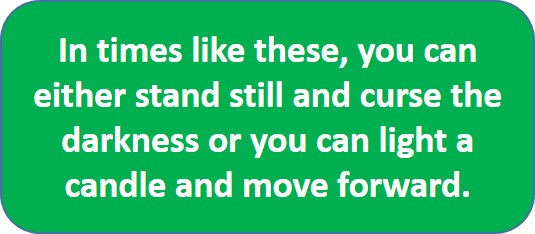 Yet, there is one thing I know is ABSOLUTELY CERTAIN: "IN TIMES LIKE THESE, YOU CAN EITHER STAND STILL AND CURSE THE DARKNESS OR YOU CAN LIGHT A CANDLE AND MOVE FORWARD."  Imagine what a difference we can make if all of us intentionally light just one candle for someone else every single day!
STAY SAFE, BE WELL, DREAM BIG and PASS IT ON!
#AmericaWorksTogether #AmericaUnited