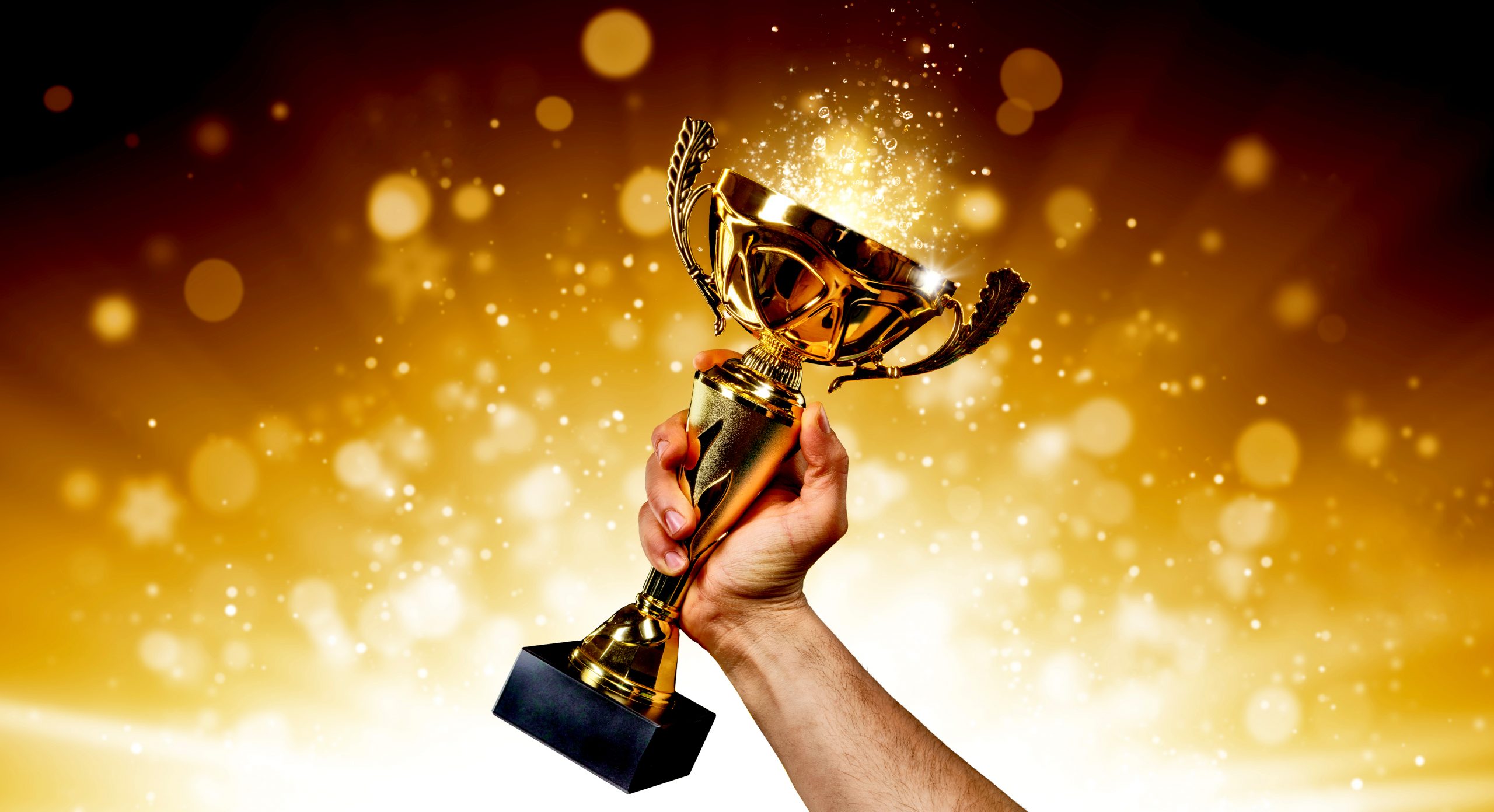 Written by Steve Gandara
WHAT IS A GREAT LEADER?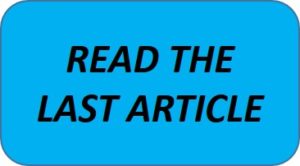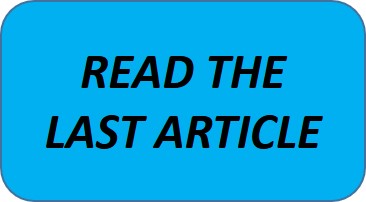 To lead anyone anywhere, let alone lead them out of the darkest period our world has likely experienced since World War II, we need an accurate understanding of what it means to be a leader.  If you've attended one our Achieving Excellent Cultures Workshops, you know that the most simple definition of a leader is understood by turning around to see if anyone is following you.  If they are, then you are one.  If not, well, let us just say that you have some learning and growing to do.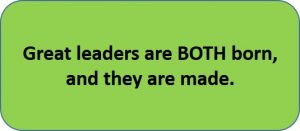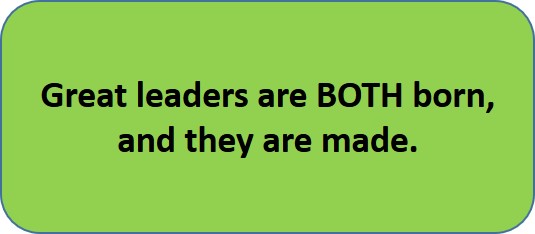 A good friend and advisor, Dr. Rob McKenna MBA, Ph.D. leads a highly accredited university Industrial Organizational Psychology department.  His program typically has 80+ masters and doctorate level candidates all studying to become Industrial Organizational Psychologists.  A few years ago, Rob told me about how he and his cohort of 80+ post grad Industrial Organizational Psychologists decided to devote an entire year to discovering the ultimate truth behind the proverbial leadership question. "Are leaders born or are they made?"  They apparently collectively studied every piece of written material and research on the subject that could be found on the planet to reach their conclusion.  After countless collective hours of rigorous research and study, the conclusion was surprisingly, BOTH.  Yes, according to Dr. McKenna and his team of 80+ brilliant post graduate academics great leaders are BOTH born, and they are made.
If you happen to be among the fortunate, you have the natural charisma and presence that others look up to and naturally follow. If you are not so fortunate, well, according to every research study available at the time, you can learn to be a great leader if you so choose and are willing.  Also, if you are among the fortunate, you can additionally learn how to improve your leadership effectiveness (your ability to inspire others to follow you) by embracing new knowledge and techniques.  If you've read this far, you're interested in becoming a better leader regardless of which category you fall into so sit tight and stay tuned as we'll likely be on this subject for a few articles.
Those of you who are graduates of one of our Achieving Excellent Cultures Workshops know how to master this.  You just need to spruce up your skills. For those of you who haven't and want to learn, as our contribution to Spreading the Light, Excellent Cultures will gift to you at no cost, our 10 week twice-a-day Achieving Excellent Cultures Daily Email and Commuter Podcast Series on us.
THE PRIMARY CREDENTIAL OF AN EXCELLENT LEADER
While some would argue, most would agree that the primary and most essential credential of an excellent leader can be learned if you do not have it already mastered.
Way back when I was coaching my oldest son's 8th grade baseball team, we won the league championship and I was awarded one of the game balls which I still have somewhere.  While I was only the assistant to the head coach, it is always an honor to be part of any championship team.  The greatest joy was not the championship but to be looked up to by a bunch of young players who actually listened to what you had to say, tried their best to do it and ultimately won a league championship doing it.  While I think the real reason we won was because we were fortunate to have the most talented athletes in the league, it still felt extremely good to contribute and see others implement your advice and win. They were able to learn from my mistakes via mentorship rather than just their own on the field.
Once our team graduated and went on to high school, it became obvious that my credibility score as a coach immediately plummeted to an all-time low especially with my son. When I inquired as to why he no longer seemed to need or even pay attention to my advice when it came to baseball, it was obvious that he believed he now knew more than I did about the subject matter.  That wasn't so bad but when my baseball credibility began to rub off on my dad credibility, I had a genuine dilemma.  Fortunately, with my wife's help, we were able to solve the dilemma by finding a highly credible baseball mentor who valued my input on leadership, performance psychology and entrepreneurial business.  While he absolutely knew a whole lot more about baseball than I did, we developed a  wonderful flow of reciprocity where everyone won.  I was able to help him with my knowledge and experience in launching and growing his sports performance academy.  He was able to package some of my leadership, performance psychology and fatherly wisdom up nicely with his baseball expertise.  My son truly valued his baseball mentor's wisdom, listened, applied, grew and improved as a result.  Win-wins are only superseded by win-win-wins and this was a true win-win-win.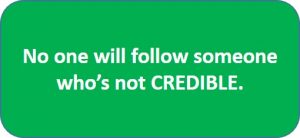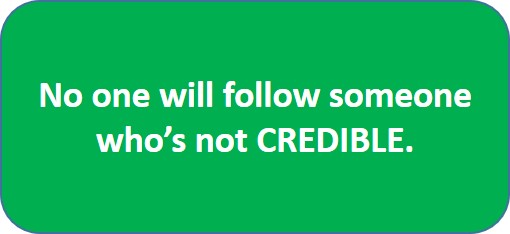 So, where are we going with all this? How could I be a genius baseball coach and mentor one day and an old, has-been kicked to the curb incompetent parent the next?  One single, solitary, insurmountable reason. CREDIBILITY.  If you do not have credibility, you are not a leader because no one will follow someone who's not CREDIBLE.  And, if no one's following then you just failed as a leader.
So, if you lack credibility, how do you acquire it?  How do you learn it?  While we will address several elements later in the series, it is important to realize that while credibility can be granted, it is typically earned.  Also, when it has been granted, it can be easily lost with the slightest error in judgment or mistake. Yet, when credibility is earned, while not bullet proof, it can last forever.
KNOW YOUR STUFF
The first element of excellent credibility is Competency.  If you do not know your subject matter, then you just failed Leadership 101.  If you don't know what you're talking about, no one will follow you for very long regardless of how smart or persuasive you are.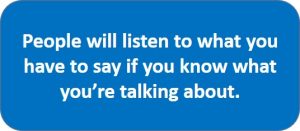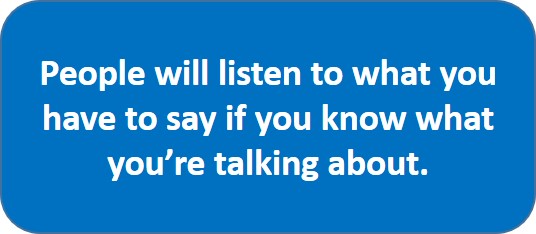 Conversely, people will listen to what you have to say if you know what you're talking about, present it with confidence and authenticity, have empathy for where they are and can be persuasive.   What a mouthful! We will get to the latter elements in more detail later in this article and those to come.  For now, let us focus on you knowing your subject matter.
The great thing about subject matter is that anyone who wants to learn it CAN learn it. If you are a plumbing supervisor because your dad owns a plumbing company, you just got strike one. If he hired you because you earned a degree in leadership or management but have never turned a wrench, you are now at full count with two outs and nobody on base. Even if you have natural born amazing charisma, make a single mistake with veteran plumbers and you're toast before ever getting into the toaster.
So, what do you do?  The answer is simple:
Put your degree in the closet.
Humble yourself and go learn how to be a plumber from the guys who really know the trade.
Be authentic! Admit your incompetency and seek their help to learn the business from their point of view.
Have empathy for how they feel and where they came from.
Find out how you can serve them.
Then, do it with all your might.
You just started developing your competency and ultimately your credibility as a leader in the plumbing business.  Now that you have begun, it is critical you realize that credibility is task specific.  Just because you are an excellent plumber with great credibility, does not mean that the guys at the electrician's union will want to hang with you, let alone follow you.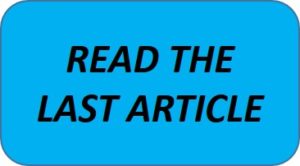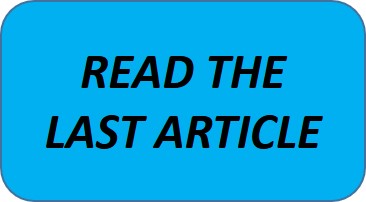 Let's explore some of the other elements of Leading the Light in This Darkness.
THE BEST LEADERSHIP LESSON I EVER LEARNED
As a father of 2 natural and 9 adopted children (you really gotta feel for my wife), I frequently find myself, teaching, coaching, correcting, encouraging or confronting one of our 11 children on one subject or another.  The most valuable lesson I ever learned from any leader or any parent who ever lived came to me from a long-time former client and good friend, Denny Clements.  Denny's retired now and serves as a director on corporate boards including our advisory board at Excellent Cultures.   Whenever we catch up, he always reminds me that he is "living the dream."  He served many years as a leader, executive and corporate officer at Toyota, one of the world's largest and most influential companies. His last official position at Toyota was Group Vice President and General Manager of the prestigious Lexus Division.
I will never forget a story Denny told me several years ago about a compliment he received from one of Toyota's wise Japanese senior leaders that turned out to be more of a learning lesson than a compliment.  Denny's story reminds me of my favorite all time leadership movie, the original Karate Kid staring Ralph Macchio as Daniel, a frequently bullied teenager in working class Los Angeles and Pat Morita as the famous Mr. Miyagi.  As you will recall, Miyagi led and taught young Daniel in ways that seemed frustratingly mysterious to him but always resulted in amazing progress. Thanks to the wisdom and wise leadership of his mentor, Daniel ultimately learned to excel in overcoming his adversaries in a peaceful and honorable way.  Yet, at the same time was simultaneously acquiring life lessons in ancient Japanese wisdom that anyone can apply with much success in any generation.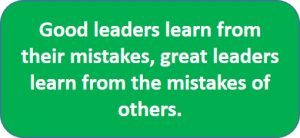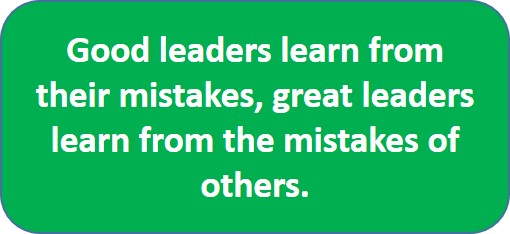 I don't remember who the leader was, I just remember Denny sharing how much he learned by being told first that he was a good leader but secondly that while "Good leaders learn from their mistakes, Great leaders learn from the mistakes of others." I wish I had a buck for every time I repeated this story to my kids about either learning life's lessons the easy way or the hard way.  Thank you, Denny!  Fortunately, some of them listened and applied this effectively while a few others are still a work in progress primarily because their dad is still a work in progress.  LOL!  I wish I could demonstrate Denny's lesson as good as Mr. Miyagi did for Daniel. Perhaps someday in the future. ????
The movie demonstrated a great example, of optimum learning. Daniel learned much from his mentor's deep introspective questions and mysterious multifaceted assignments and exercises. Yet, he also learned from his own mistakes of not properly taking full advantage of his mentor's battle scars, experience and wisdom.
So where are you? What kind of leader are you? What kind of learner are you? Do you need to do everything yourself to learn the hard way?  Or, have you become good at observing others, learning from their mistakes, asking lots of deep introspective questions like Miyagi and pulling the best out of those you lead? Pulling the best out of your children so they can learn from your mistakes rather than forcefully doing it all themselves, just to prove that you are wrong? Regardless of which category you fall into, there's hope and help for you so stay tuned.
GREAT LEADERS HAVE SHARP MINDS AND RECEPTIVE HEARTS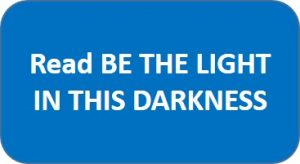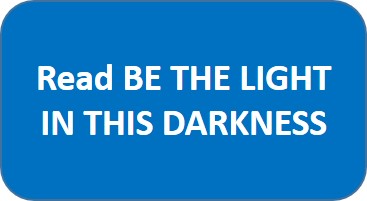 A few articles back when we talked about how to BE THE LIGHT IN THIS DARKNESS, we discussed how critical it was to Have the Right Heart.  We used the Greek root word "kardia," and its most simple translation to English as the word "heart" to identify something far different than our inner blood pumping organ. We transitioned to the Merriam Webster definition as "one's innermost character, feelings, or inclinations" which is right on the money with the ancient Greek: "the seat of spiritual life, the soul or mind, as it is the fountain and seat of human thoughts, passions, desires, appetites."  All of this being the case, what about the heart of a great leader? You will notice the title of this section emphasized having a "Receptive Heart" rather than a "Soft Heart."  While the difference may appear subtle to some, when it comes to leadership, there is a very profound, distinctive and hugely diverse comparison. Great leaders have highly developed empathy. Poor leaders fall into sympathy which involves feelings of pity and sorrow for someone else's misfortune.  While sympathy is an important human attribute if you're a leader it can be a trap.
In our work assessing, training and coaching leaders, we have found it extremely helpful to utilize scientific instruments to measure some of the hidden things in leaders that frequently go undetected.  While personality profiles can be enlightening, they are more about understanding how someone ticks rather than transforming how they adapt, perform and effect those who they lead.  Since our work is more about transformation and performance than enlightenment, we frequently move past these to more advanced tools.
One of the instruments we utilize measures a leader's effectiveness in developing quality interpersonal relationships and empathy.  While interpersonal relationships involve the ability to develop trust and compassion, empathy is more about perceiving how others feel and leveraging that understanding into improved communication and development of trust.  Lately we have run into several leaders who struggle in both areas.
Some have developed the ability to inspire others to follow them by befriending them to develop their trust. While this can work for a while, it always crashes when a leader is forced to make a corrective decision where one of their followers is in severe danger of hurting themselves or others on the team and require a firm hand. It always seems to result in either a failed leader or a broken friendship, usually both.
Others are so focused on their own goals, that they blow right past how their intensity effects the trust and interpersonal relationships with those who they depend on most to help them succeed in the achievement of their goals. As a result, while they typically get good results, for a season, they end up doing most of the work themselves, have high mistrust and turnover and burn themselves out in the long run.
While we could discuss all the subtleties of these dichotomies forever, for now let's cut to the chase and identify an image that seems to produce optimum results.  As a parent of some adoptive kids who came from incredibly challenging backgrounds you learn a lot about leadership out of pure survival. When your teen is on drugs that are destroying their life and refuse to accept help and have broken your trust more times than you can count, what do you do?  When another is in jail for something that they are not guilty of, but they made a stupid choice that started a chain reaction that got them there in the first place, what do you do?  When you have a middle manager who is highly effective at exceeding plan but is burning up their people to achieve noteworthy levels of excellence, how do you handle it?  When your teen son thinks he's in love with a girl who your wife believes is a cross between the Wicked Witch of the East, Jezebel, Mata Hari and Delilah, how to do you bridge that one?  When your boss has lost trust in one of your junior executives because she's burned all of her bridges with other team members.  Yet, she believes it's because they're gossiping about her behind her back and refuses to take any accountability for her own actions, what's the solution?  Is what some call tough love the answer or does compassion come into play here?  What's the right call, justice or mercy? Is it a stern hand or a second, third or fourth chance?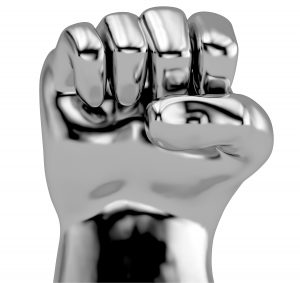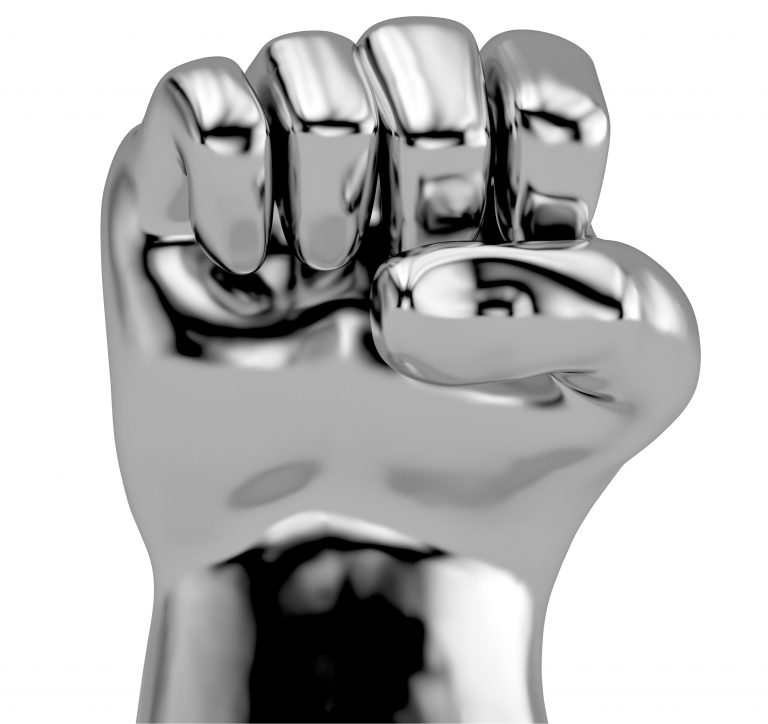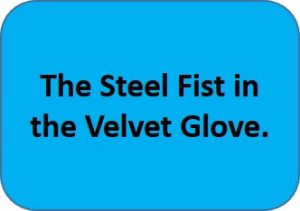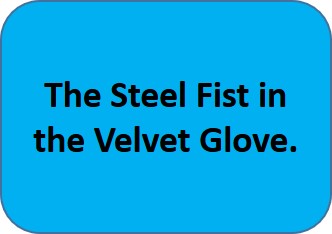 While there is no simple answer to any of these, the best leaders I've been able to observe in over 4 decades of coaching and consulting model what I call The Steel Fist in the Velvet Glove.  The best leaders I have ever observed are neither hard nor soft, they're both.  They understand their authority and power, but they don't lead by it until it's absolutely necessary. They care deeply about their children and the people they lead at work. Yet, they do not let their feelings of admiration, affection or friendship for them override doing what is best for the individual, the family or the team in the long run.  When the steel fist does come out, it comes out just enough to get the job done and no more.  The way I like to describe it is that when they know the reality of the fact that there is a steel fist underneath that velvet glove, they never need to take the glove off.  All they need to do is just pull it down just a little around the wrist for effect and then immediately go back to the velvet glove as soon as the effect is accomplished.
I was watching "Miracle," Disney's version of the story of the gold medal winning US men's ice hockey team at the 1980 Winter Olympics in Lake Placid, New York on Netflix the other night.  In the movie, a pretty accurate description of the true story, Kurt Russel plays Herb Brooks, a voracious, intensely driven coach of a team of young rookie college players who ultimately defeat the world's finest most mature, team of Soviet players in the Olympics.  Brooks, a fiercely driven man is so intense because he was once on the Olympic team as a young player himself.  After months of grueling trials to make the team as a young player, he was cut just before his team went on to win the Olympic Medal.  As a result, his life's driving passion had been to go back and win the medal that he was denied the opportunity to win as a player, now as a coach.
The Soviet team, who had played together for several years, never losing a single game, not only miserably defeats the US team on the world's stage at Madison Square Garden, they do it just 3 days before the college rookies head to Lake Placid for their Olympic debut.  Of course, they end up facing the Soviets again in the first medal round.   You know the rest of the story.  The humble, young, US David edges out the mature, arrogant Soviet Goliath on the world's stage to the amazement of the whole world who watched.
In the movie, there is a scene where the doggedly driven Brooks is forced to reduce his team from 21 players to 20 to meet Olympic guidelines.  This scene does the best job of demonstrating The Steel Fist in the Velvet Glove persona that I've ever witnessed.
The coach's great dilemma is that he has pushed his young men so fiercely through so much indescribable difficulty, only to watch them all respond with such amazing character and tenacity, he's grown to not just respect, but love each player deeply like they were one of his own children.  Now he must seriously hurt one of his own in the exact same manner that his own life had been so deeply scared by being cut just before his own trip to the Olympics as a young college player.  The alternative is to disqualify the entire team so it is clear what he must do.  But how does he do it?
Russell does a masterful job of playing the vehemently focused, steel eyed Brooks.  As he struggles his way through the process, he eventually arrives on Ralph Cox, a standout player at the University of New Hampshire and lynchpin member of the national team in 1979. Brooks genuinely loves Cox, especially since he watched him struggle his way back from a severe injury, breaking his ankle in a game against Poland one month before tryouts for the Olympic team.
In his heart of hearts, Cox knows what's up when he's asked to meet Brooks.  It's written all over him as he meekly enters Brook's office where the meeting is to begin.  Brooks begins the conversation with the words, "There's just no easy way of doing this, Ralph." The pressure is so thick you can feel it just by observing the body language. "The rules say that we've gotta be down to 20 men and right not we're at 21." You can tell by Ralph's head hanging that his worst dread has occurred. Brooks goes on, "I wish like hell I could keep you Ralph. I do." Ralph nods his head in disappointment and whispers "yeah I know."  Brooks goes on, "you're a hell of a hockey player. This doesn't change that." While Ralph stands up and appreciatively says thanks, you can see Brooks lips quivering as he holds back the tears of disappointment for the choice he has been forced to make.  You can tell Ralph feels the love and admiration of his coach and mentor even though the circumstances at hand are insurmountably difficult. As they shake hands Ralph says with deep appreciation, "thanks for giving me a shot coach." Brooks, with lips still quivering, looks Ralph in the eyes and says with obvious heartfelt gratitude, "thanks for giving me your very best." As Ralph leaves the office and closes the door, Brooks is about to break down in tears of disappointment when he is interrupted by his phone ringing.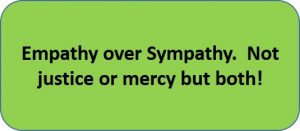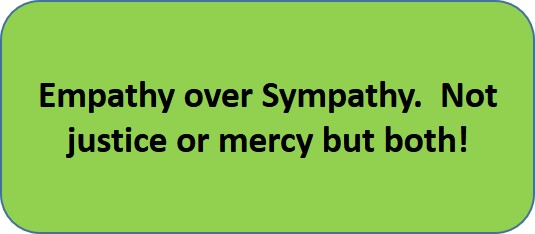 The Steel Fist in the Velvet Glove, true leadership at its finest.  Empathy over Sympathy. Not justice or mercy but both!
WHAT HAVE WE LEARNED?
Leaders are not just born, they are made.
Anyone who wants to learn how can.
Credibility is Job One for Excellent Leaders.
Credibility is developable.
Great Leaders learn from the mistakes of others, not just their own.
Great Leaders Have Sharp Minds and Sensitive Hearts.
Empathy trumps Sympathy Every Time.
We will continue to explore your next steps in LEADING THE LIGHT IN THIS DARKNESS in upcoming articles.  But, for now you can get a head start by taking advantage of our gift to you:  Our entire 10 Week, twice daily Achieving Excellent Cultures Podcast Series


PASS IT ON
As I've said before, I am certainly no expert, just an intentional observer who cares about you, your business, your team, your family and most of all, your future.  I might be wrong or even worse than that, "Controversial."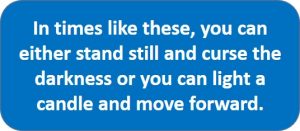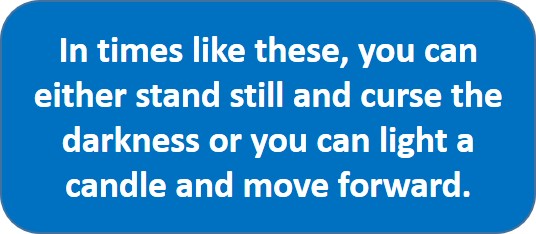 Yet, there is one thing I know is ABSOLUTELY CERTAIN: "IN TIMES LIKE THESE, YOU CAN EITHER STAND STILL AND CURSE THE DARKNESS OR YOU CAN LIGHT A CANDLE AND MOVE FORWARD."  Imagine what a difference we can make if all of us intentionally light just one candle for someone else every single day!
STAY SAFE, BE WELL, DREAM BIG and PASS IT ON!
#AmericaWorksTogether #AmericaUnited