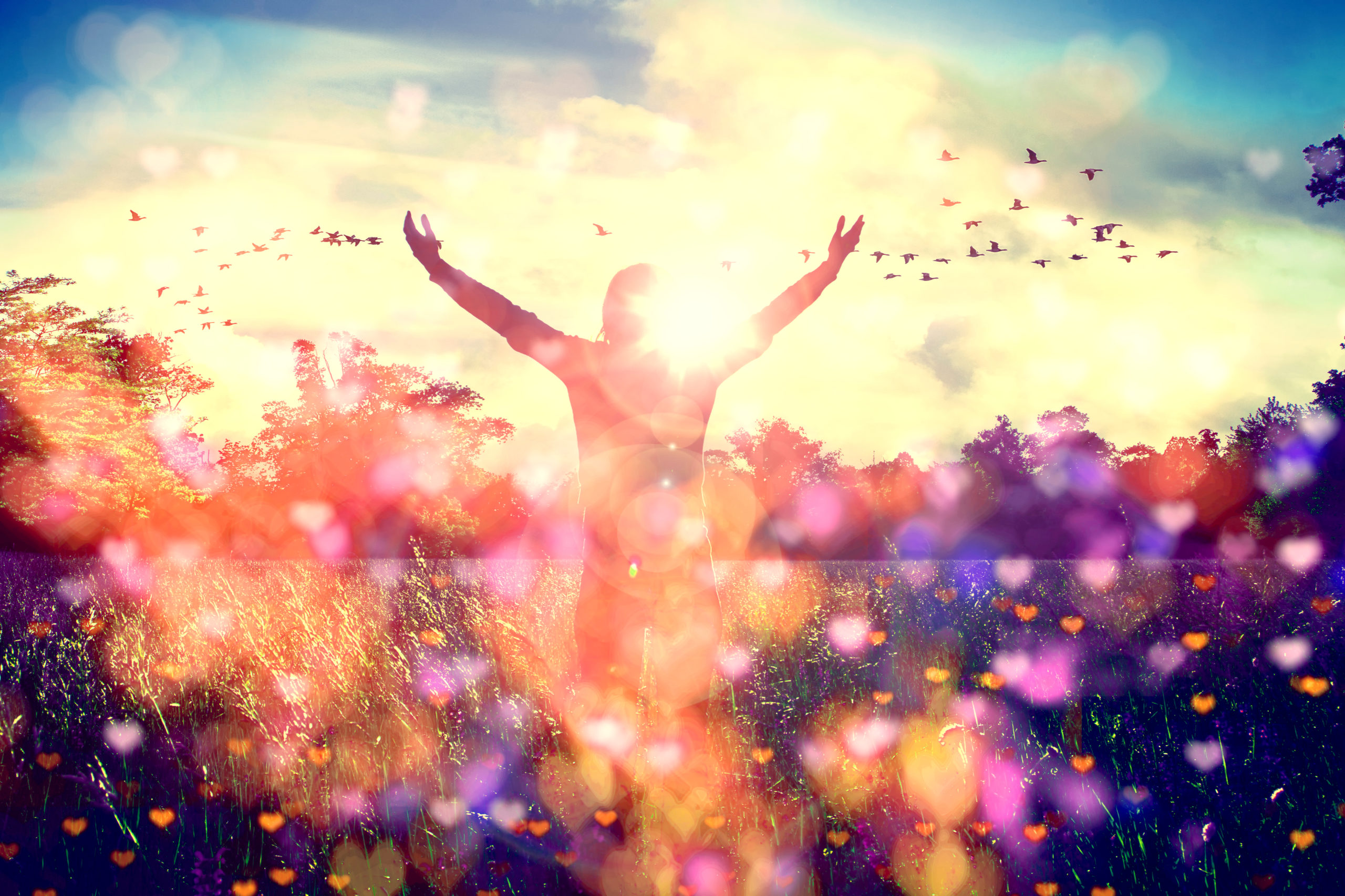 By Steve Gandara
SPREAD THE LIGHT IN THIS DARKNESS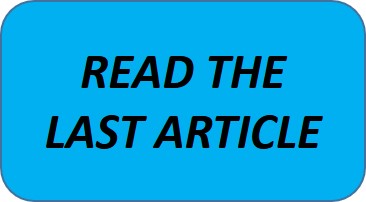 Thanks again everyone who posted, texted, or emailed in their views on the light that is emerging in this temporarily dark moment in our history.
BE THE NEW NORMAL BEFORE IT'S NORMAL
Every day in this crisis we see and hear both the glimmers of light followed and surrounded by a whole lot of darkness. Lately there has been lots of conversation about the world never going back to the way that it was but that a NEW NORMAL is emerging. While some do everything from passively hoping to aggressively protesting to do their part in returning us to where we were before, others recognize that given all that is taken place, we will never be the same again. While I am one of the latter, I am also one who works every day on seeking, identifying and implementing ways to participate in the creation of our NEW NORMAL, at least for those in my own sphere of influence. My encouragement to each of you is to pursue the same for your life, loved ones, team and organizations. Along those lines there appears to be 3 foundational imperatives: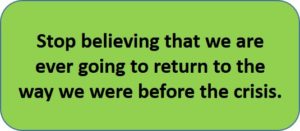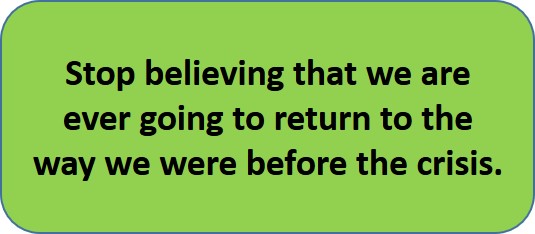 Stop Believing that We are Ever Going to Return to the Way We Were Before the Crisis while we wait and hope for things to "go back to normal". Too much change has already occurred for things to ever return to the way that they were. Those days are gone and hoping for the past will only slow down your future and the future of all those around you.
Start Believing that you are participating in creating Your Own New Normal with those you lead and influence.
While you're making the most of where you are at the moment, invent or create something new and improved that will make things better where you are and that you can stick with in the New Normal that you're creating.
Use your progress to challenge those you influence (loved ones, co-workers, direct reports and even your boss) to do the same.
These four points might sound a bit strange, weird, or even outlandish for the moment but if you're an Achieving Excellent Cultures Workshop grad, you know that 90% of our population spends 90% of their time trying to change things that can't be changed because they're focused on changes that are out of their control. As a result, they spend no time focusing on the 3 things that they can change. Then, they become frustrated because whatever they were trying didn't work, they give up and accept the status quo as "Their Own New Normal" that's never going to change.  Some even unconsciously develop the mindset of a victim and sentence themselves to a life of external control of most, if not all, the circumstances around them.
What are the 3 things that you can always change because they are absolutely in you total 100% control:
Your own attitudes
Your own beliefs
Your own effort
If you have not participated in a workshop yet, sit tight. There is a gift opportunity for you to catch up later in the article.
DON'T JUST WAIT ON THE CIRCUMSTANCES AROUND YOU TO CHANGE, CHANGE THEM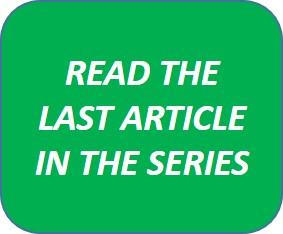 If you read the last article in this series, you will recall how revolutionary economist Paul Zane Pilzer challenged the status quo of the economics world and proved that human beings with an abundance mentality far outpace those with a scarcity mindset. Abundance minded people far surpass the scarcity folks in the areas of innovation, creativity, and development of new breakthrough technologies in every crisis. Today I want to ask you to take a brief glimpse at a small part of the other side of the coin with the hope that we can strike a place of perfect balance between the two.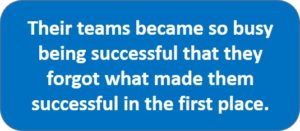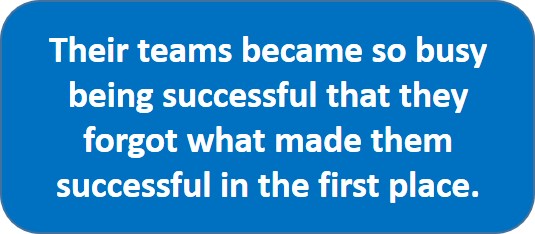 I personally have discovered that, at least in the US and the western hemisphere, success and prosperity have shut down and ruined nearly as many people as have poverty, failure and lack. Why? Because "Seldom do we exceed our own expectations."  Every day I have leaders and executives of very large and some smaller enterprises who are our clients, tell me of how they lost their cutting edge. The edge that made them and their organizations unique, amazing, and hugely successful vanished as they increased their success. According to their own self assessments this occurred when they and their teams became so busy being successful that they forgot what made them successful in the first place. Of course, they then stopped doing what made them successful and their demise became history. Complacency, mediocrity, and sometimes total disaster followed soon after. In other cases, they, their teams, and their organizations experienced what author Jim Collins calls the Good-to-Great concept. In his best seller, Good To Great, Collins' research identifies that the greatest enemy of companies becoming great is the belief that we're already "Good."  As a result, the mindset of being "Good" mysteriously dissipated all of their drive, energy, and creative innovative ability to pursue and achieve "Greatness."  As a result they became satisfied, lost their edge and passion for excellence and decline followed. The worst part of this entire phenom is that it happens like the case of the frog on the stove in the pot of water. While the frog would ordinarily jump out of boiling water immediately to save its own life, when the flame is turned up on cold water and it heats up gradually to boiling, you end up with boiled frog soup for lunch. This can happen to a global corporation, a small business, a family and yes, even an individual who sits around and waits for everything "to finally get back to normal."
WHAT DO YOU HAVE INSIDE OF YOU THAT CAN MAKE ALL THE DIFFERENCE?
Have you ever noticed when your inventive and creative abilities are at their best and when they are at their worst? Most excellent leaders would say that having their backs against the wall generated far better innovation and creativity than successful busyness ever did. So, what are we saying here? Create a life or death crisis every day so that you can cause innovation or creativity to come forth? While not recommended, that is one way to practice what we are discussing here. Yet, there are many who have perished amid this and every other crisis by so doing. So, where is our balance? For you to Spread the Light in This Darkness and not become part of the darkness there are a few critical core beliefs that need to be embraced.  While we have already discussed the first one, there are more: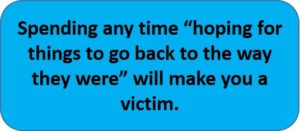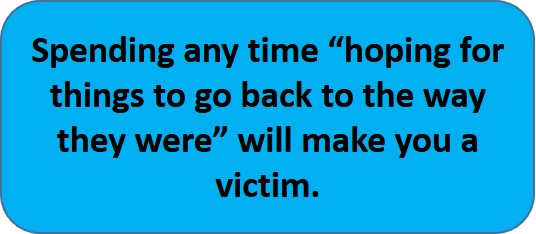 We will never return to things the way that they used to be (too much change has already occurred).
You can either be a victim of the "New Normal" or a contributor to creating it.
Spending any time "Hoping for Things to Go Back to The Way They Were" will make you a victim.
You and your team, family or organization collectively have the capacity to invent and implement a piece of your developing new normal every day. And you do so!
You personally and collectively inspire and persuade others (including your superiors) to follow your example of Spreading the Light in This Darkness by creating a new and better normal amid this present darkness every day.
These are powerful beliefs. Do you possess them? Do you own them? Do they Possess You? Do they own you? Or, are you a frog in a pot of boiling water who does not realize that the water is boiling? Do you know how to build these beliefs if you don't own them?
Those of you who are graduates of one of our Achieving Excellent Cultures Workshops know how to do this.  You just need to spruce up your skills. For those of you haven't and want to learn, as our part of Spreading the Light, Excellent Cultures will gift to you at no cost, our 10 week twice-a-day Achieving Excellent Culture Daily Email and Commuter Podcast Series on us.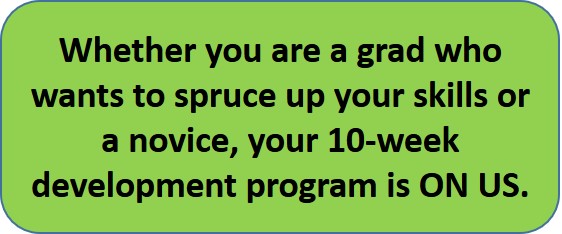 This way you can both learn as well as teach your colleagues, teammates and loved ones to Spread the Light in This Darkness. No cost, no marketing broadcast emails to fill up your inbox to sell you something. No malware or spyware, just a "no strings attached contribution to your future as a LIGHT SPREADER."  Whether you are a grad who wants to spruce up your skills or a novice, your 10-week development program is ON US. 5 to 7-minute podcasts full of powerful encouragement and belief building skills, twice-a-day in your inbox for 10 weeks that you can freely opt out of at any time ALL ON US.
MAKE A HABIT OF SHARING WHAT YOU HAVE AND LEARN WITH OTHERS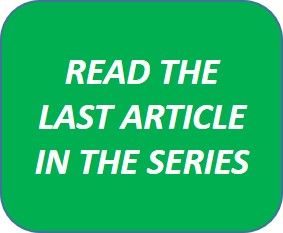 Physics teaches us that Nature Abhors a Vacuum. This idiom is used to express the idea that empty or unfilled spaces are unnatural as they go against the laws of nature and physics. When a void of emptiness exists in nature, whatever is around it seeks to fill it. It is the same with people. If you remember what we learned from Professor Pilzer in the last article, those who had a scarcity world view hoarded what they had because the were afraid to lose it. Conversely, those with the abundance mindset had no problem sharing what they had. They possessed the confidence that the mere act of giving away or sharing what they had generated creative, innovative power within them to find, create and invent more. Are you a crisis solver or a crisis victim? Like pregnancy, there is no half and half. You either are or you are not. One or the other with no middle ground. Those who freely, cheerfully, and confidently share their wisdom, insights, bright ideas and creativity with others generate more and it grows. Those who hoard what they have relinquish the larger market share to those with the abundance mindset. Check out Professor Pilzer's Sony vs. JVC case study in the last article. Sony hoarded their Betamax technology which forced JVC to license their VHS technology to every manufacturer of video cassette players or recorders and guess who ended up owning the market?
Just as a way to demonstrate this concept, we're gifting you our entire 10 week twice daily Achieving Excellent Culture Podcast Series as I mentioned earlier.
DEVELOP A SERVICE OVER SELF CULTURE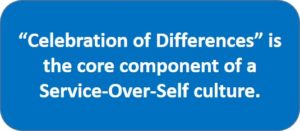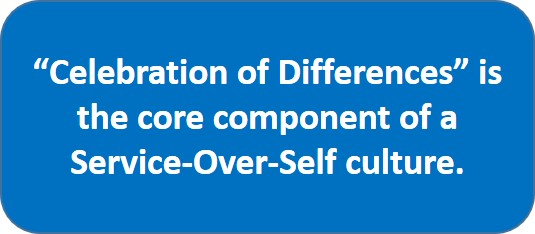 To develop this abundance mindset individuals as well as teams need to develop a Service-Over-Self culture individually and collectively. Summarizing the detail of what you will learn in more depth on the Achieving Excellent Culture Daily Podcasts, Service-Over-Self culture is readily observed in the way world class athletic teams work together to overcome the adversities of both their given sport as well as their competitors.  I find this most easily observed in the best NBA teams who personify Economics Professor Pilzer's "Specialization or Labor" and what he calls "Culture of Love" concepts on the court. Every NBA team has specialists: point guard, power forward, post etc. The best teams and coaches are constantly looking for ways to win the matchups and take advantage of each of their players' unique, specialized gifts against the odds of the game as well as their competitors. When there's only seconds left on the clock and the team is behind by 4 points, everyone celebrates the fact that they have a great three-point shooter on their team and makes every effort to get the ball to them. No egos or ball hogging prevail. Only "Celebration of Differences" will win the game. "Celebration of Differences" is the core component of a Service-Over-Self culture. This differs considerably from the typical "Me, Me, Me, What's in it For Me" or "Toleration of Differences" culture that we typically see allowed and displayed on inferior teams.
While it is a subject for another time and article, when I am asked to speak about Diversity and Inclusion, I typically emphasize a cultural cornerstone. The differences between the cultures of "Toleration of Differences" versus "Celebration of Differences" demonstrate huge, vastly different gaps in their performance realities.
PASS IT ON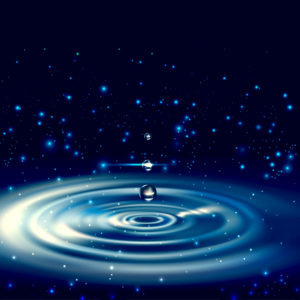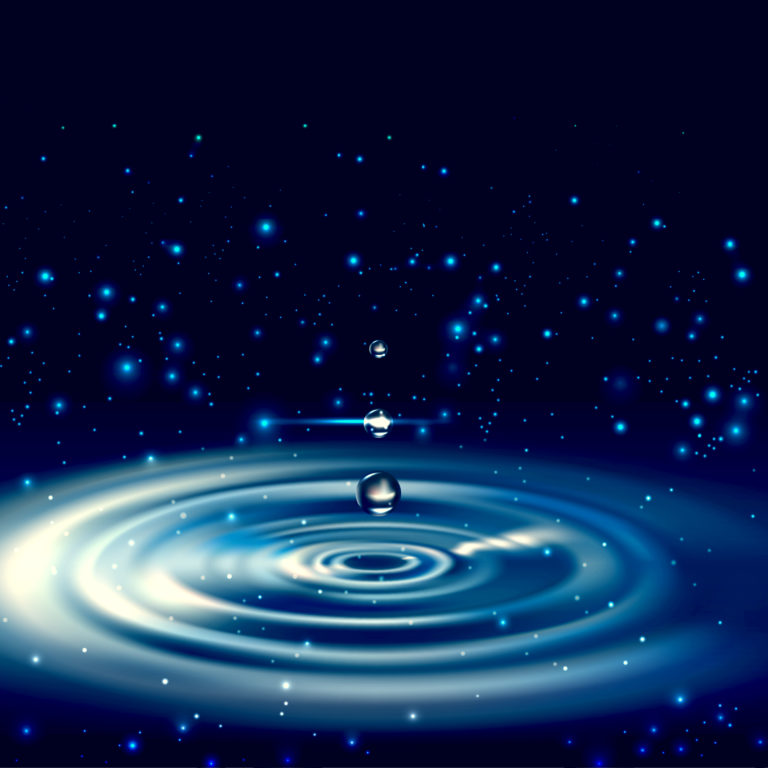 My good friend Ron Worman, who I referenced in an earlier article in this series, as one of the best corporate strategists on the planet in my opinion, taught me about The Ripple Effect of concentric circles in human culture. While the The Ripple Effect is defined as the continuing and spreading results of an event or action, most of us have no concept of how powerful our influence can be. If just one individual shares what they have or what they know with 2 individuals and those 2 the same and so on, it creates a social contagion that would affect the entire globe and ultimately the universe in less than a week. So SPREAD THE LIGHT!
As I've said before, I am certainly no expert, just an intentional observer who cares about you, your business, your team, your family and most of all, your future.  I might be wrong or even worse than that, "Controversial."
Yet, there is one thing I know is ABSOLUTELY CERTAIN: "IN TIMES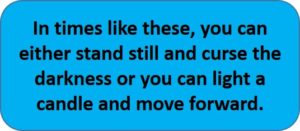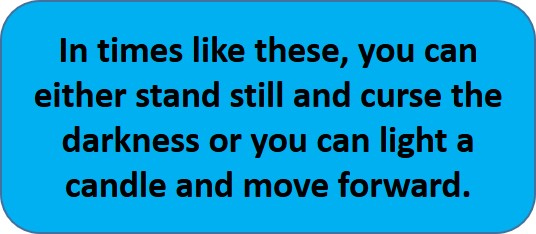 LIKE THESE, YOU CAN EITHER STAND STILL AND CURSE THE DARKNESS OR YOU CAN LIGHT A CANDLE AND MOVE FORWARD."  Imagine what a difference we can make if all of us intentionally light just one candle for someone else every day!
STAY SAFE, BE WELL, DREAM BIG and PASS IT ON!
#AmericaWorksTogether  #AmericaUnited